[PoS Round-Up] Ethereum 2.0 deposits reach launch threshold 🚀
PoS Round-Up is our focused biweekly report on the major news in and around the Proof of Stake ecosystem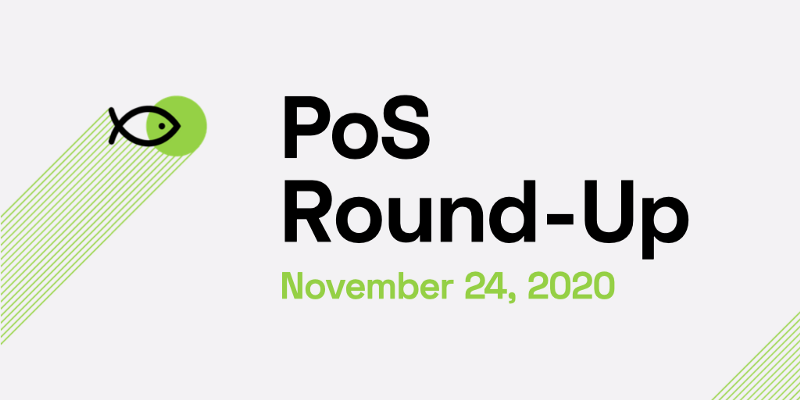 PoS Round-Up is our focused biweekly report on the major news in and around the Proof of Stake ecosystem
Ethereum
The amount of ETH deposited to the Ethereum 2.0 deposit contract rocketed past 524,288 yesterday, cementing December 1 as the network launch date. The final 25% of the required ETH was deposited in just four hours.
We'll be hosting a live launch party to watch the genesis block make its appearance. Keep an eye on our social media for the announcement!
Bits & Pieces
Our Ethereum 2.0 staking platform is live! Spin up your own validator for 0.1 ETH and join the more than 1,700 validators that have already been launched with us.
Tezos
Tezos has successfully implemented the Delphi upgrade, decreasing gas consumption by 75%. Because there is a cap on the amount of gas that can be consumed in a single Tezos transaction, this reduction will enable developers to deploy more complex smart contracts. Supporters hope the upgrade will pave the way for the network to claim a stake in the DeFi ecosystem, which is currently dominated by Ethereum.
Stake with us! stake.fish/tezos
Solana
The Solana Foundation has released details regarding its automated delegation strategy geared toward increasing the network's decentralization and censorship resistance. The Foundation plans to delegate 100,000,000 SOL, more than 80% of treasury funds, using an "autonomous script" that will dynamically delegate funds to maximize the number of unique nodes that make up 33% or more of the total stake on the network. This number is the number of nodes that would theoretically need to be controlled by an attacker to compromise the network.
Stake with us! stake.fish/solana
Cosmos
The free Cosmos Interchain Conversations II Summit will take place on December 12 and 13, featuring more than 50 speakers from across the ecosystem.
Stake with us! stake.fish/cosmos
stakefish
Our Ethereum 2.0 staking platform is officially live! "Early-bird" stakers pay a 0.1 ETH flat fee until withdrawals are enabled. 1,700 validators have already been launched using our service!
We're also giving away early adopter NFTs to anyone who deposits with us before the genesis block!
Our Batch Deposit Contract, which allows users to spin up multiple Ethereum 2.0 validators in a single transaction, was audited by Runtime Verification.
We shared some thoughts on our involvement in the mainnet launch of the Oasis Network.
---
About stakefish
stakefish is the leading validator for Proof of Stake blockchains. With support for 10+ networks, our mission is to secure and contribute to this exciting new ecosystem while enabling our users to stake with confidence. Because our nodes and our team are globally distributed, we are able to maintain 24-hour coverage.
Website: https://stake.fish
Telegram: https://t.me/stakefish
Twitter: https://twitter.com/stakefish
Instagram: https://www.instagram.com/stakedotfish
LinkedIn: https://www.linkedin.com/company/stakefish/