Staking
Launching stakefish's Eth2 staking platform
We are happy to finally announce the launch of stakefish's Eth2 non-custodial staking platform. We have been working tirelessly to present…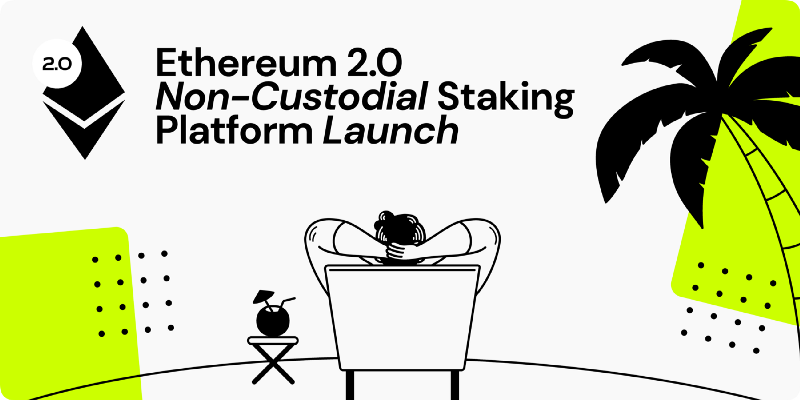 We are happy to finally announce the launch of stakefish's Eth2 non-custodial staking platform. We have been working tirelessly to present the community with an attractive option to stake without needing to personally run validators. Eth, stake & relax.
How it works
Every step of the way is designed with the intention of making the process as easy as possible.
Sign up. You will need to sign up to our platform with an email address. This will be the main way we contact you about any key updates on Ethereum 2.0 and our platform.
Choose the number of validators you are signing up for.
Generate your withdrawal keys. We are a fully non-custodial platform. This means that we won't ever ask for or store your withdrawal keys, which control the flow of funds for a validator address. You will generate these keys independently using the official Deposit Contract CLI provided by the Ethereum Foundation. Even if you are not technical, you need to do this part alone for security purposes. We have a written guide, a video tutorial for Windows, and a video tutorial for Mac available to help guide you through each step. We are in the process of implementing Ledger to our platform. Please be on the lookout for our announcement for Ledger support.
Carefully read and sign all disclaimers and agreements.
Review, sign and broadcast the final transaction.
Be sure to review the transaction amount and the contract address you are interacting with. Our mainnet Batch Deposit Contract address is 0x0194512e77d798e4871973d9cb9d7ddfc0ffd801.
What we take care of
After the final transaction has been sent and confirmed by the blockchain, we take care of the rest. We generate the validator signing keys and spin up the requested validators. We make use of different clients deployed on cloud service providers, selecting regions spread out across the globe. Our infrastructure team has a strong industry record of running validators on other blockchain protocols without any slashing incidents. The team applies the same rigorous security approach to the validators deployed for Ethereum 2.0.
Additionally, we directly stay up to date with any key developments of Ethereum 2.0 and the client teams. This way, we are able to react rapidly in case there are any issues. Monitoring tools are put in place as well so that if any of the validators we run face performance issues, we are able to quickly address them.
User dashboard
We want to make sure you have full transparency about the performance of the validators we run for you. Our dashboard has been put together to show the key metrics of the overall network and the validators you have purchased from us. Please note that all of the information is on-chain and you can validate your validators' performance on any publicly available block explorer.
Fees
We are providing an "early-bird" fee for all users: A one-time flat fee of 0.1 ETH for each validator until withdrawals are enabled. We have written a separate post about our fee structure, along with FAQs, so please refer to them for more details.
Terms of Service
We encourage all users to read this closely before signing up for our service.
FAQs
What happens in the event of slashing?
While we have a strong track record of running validators on various blockchain protocols without ever getting slashed, slashing will always be a major concern of any staker. We will be compensating the fees we have collected or the total slashed ETH amount, whichever is smaller, in the unlikely event that the validators we operate get slashed. This compensation will happen after a review of the slashing event, as any slashing event caused by client or network failures will not be considered for compensation.
Can I use one withdrawal key for multiple or all of my validators?
Yes. You can assign a single withdrawal key to multiple validators you sign up for. Please keep in mind that the withdrawal key will be the only way for you to access the funds in the validators you spin up with us. We cannot help you gain access to these funds if you lose your withdrawal key(s).
What can I do if I want to exit from stakefish's validator service?
If you want to stop using our validator service at any point in time, we will have an exit transaction available for you to download. Then, without needing our permission, you can broadcast that exit transaction at any time to start the process of shutting down your validator(s).
Please note that because of how Ethereum 2.0 is designed, there is no way to withdraw ETH from a validator that has been shut down during Phase 0. This is out of our control, and we will not be able to help you restore a validator once you have decided to shut it down.
What do you do if you plan to sign up for more than 100 validators?
Our current user interface allows up to 100 validators per deposit transaction. If you wish to sign up for more than 100 validators at once, you can run through our deposit flow multiple times. You are also welcome to reach out to us separately at eth2@stake.fish. We are happy to assist you with setting this up.
---
About stakefish
stakefish is the leading validator for Proof of Stake blockchains. With support for 10+ networks, our mission is to secure and contribute to this exciting new ecosystem while enabling our users to stake with confidence. Because our nodes and our team are globally distributed, we are able to maintain 24-hour coverage.
Website: https://stake.fish
Telegram: https://t.me/stakefish
Twitter: https://twitter.com/stakefish
Instagram: https://www.instagram.com/stakedotfish
LinkedIn: https://www.linkedin.com/company/stakefish/