Eth2 reaches 75,000 validators, The Graph explores other blockchains
PoS Round-Up is our focused biweekly report on the major news in and around the Proof of Stake ecosystem.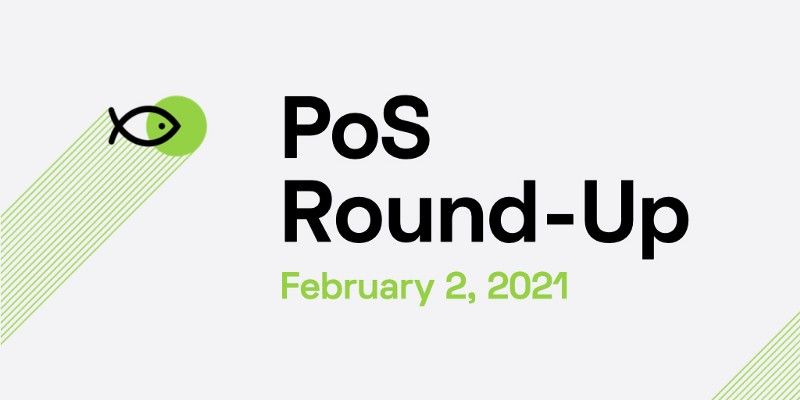 PoS Round-Up is our focused biweekly report on the major news in and around the Proof of Stake ecosystem.
Ethereum
With more than 75,000 active validators and thousands more queued up and waiting to join the network, the Ethereum 2.0 Beacon Chain is looking as healthy as ever. The frequency of slashing events has also dropped.
Check out the latest edition of What's New in Eth2 for a more detailed overview of the network.
Bits & Pieces
The Graph
After successfully launching for Ethereum, The Graph is now looking into adding support for other blockchains. The networks being explored include Bitcoin, Polkadot, NEAR, Cosmos, Solana, Avalanche, Binance Smart Chain, and Celo.
Cosmos
Governance Proposal #34, focused on marketing, has passed.
IRISnet
IRISnet's mainnet 1.0 upgrade is expected in early February and will include significant new functionality, including support for IBC and NFTs.
stakefish
We are now running about 6,500 Ethereum 2.0 validators for a total of 208,000+ ETH staked!
We are sponsoring two upcoming events. Join us at ETHDenver for talks from three of our team members:
Chun Wang (Founder): Why should miners embrace EIP-1559?
Daniel Hwang (Protocol Specialist): Eth2 decentralization transparency
Jun Kim (Strategy & Operations): The f2pool/stakefish bounty program
We will also be hosting an AMA with NFT fantasy soccer project Sorare. Keep an eye on our Twitter page for the announcement.
We released our Eth2SlashBot Twitter bot, which monitors the Beacon Chain to keep you updated on the latest slashing events!
We have become a node in Lido's staking pool!
In light of its renewed focus on its Moves program, we have decided to halt our validator on The OAN.
Our HR Manager Maayan Kim has published an article reviewing our journey to becoming a remote-first company and some tips for anyone looking to go down the same path.
One of our validators reached the number-one spot on beaconcha.in!
We created a list of major projects in the NEAR ecosystem.
About stakefish
stakefish is the leading validator for Proof of Stake blockchains. With support for 10+ networks, our mission is to secure and contribute to this exciting new ecosystem while enabling our users to stake with confidence. Because our nodes and our team are globally distributed, we are able to maintain 24-hour coverage.
Website: https://stake.fish
Telegram: https://t.me/stakefish
Twitter: https://twitter.com/stakefish
Instagram: https://www.instagram.com/stakedotfish
LinkedIn: https://www.linkedin.com/company/stakefish/