[PoS Round-Up] SKALE Mainnet Launches, Elrond Announces Launch Date
PoS Round-Up is our focused biweekly report on the major news in and around the Proof of Stake ecosystem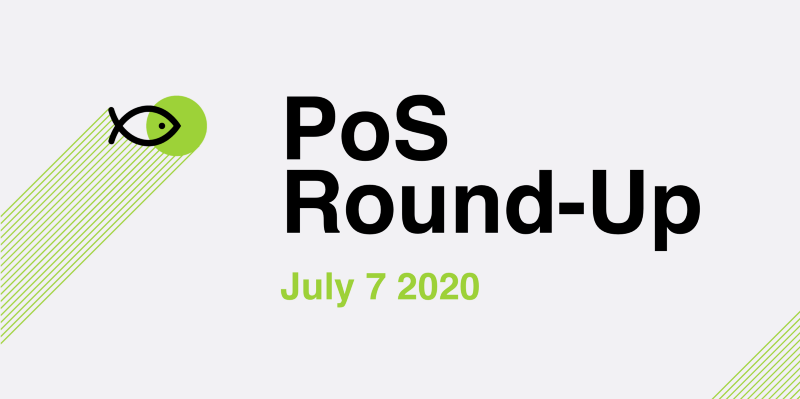 PoS Round-Up is our focused biweekly report on the major news in and around the Proof of Stake ecosystem
SKALE
SKALE Mainnet officially launched on June 30! In development since 2017, the Winklevoss- and ConsenSys-backed project joins the race to provide a suitable scaling solution for Ethereum. Read the official announcement for more details.
Elrond
On July 4, Elrond Network revealed its mainnet launch date: July 30, 2020.
Polkadot
If you participated in the Polkadot fundraiser, you can now claim your DOTs. Watch our how-to video to get started.
In other news, a hackathon taking place on Kusama Network, the experimental "canary network" for Polkadot, has begun. The hackathon will run until August 14, so there's still plenty of time to participate and compete for $30,000 in prizes.
Stake your DOT with us!
Celo
Celo Foundation has announced the latest addition to the stablecoin world with the Celo Dollar. Celo Dollars are intended to serve as a cornerstone of the Celo ecosystem, particularly in areas where traditional financial tools are not easily obtainable.
Stake your cGLD with us!
Chainlink
Another slew of companies has integrated or partnered with ChainLink over the past two weeks, including CurioInvest, FLETA, Polyient Games, Gelato, and Cargo.
As this list demonstrates, Chainlink has one of the fastest growing ecosystems in the blockchain space. To help you keep up, we've compiled an easy-to-read list of projects.
Ethereum
Public multi-client Beacon Chain testnet Altona is now live. More than 1,800 active validators are proposing blocks at the time of writing.
Matic
Staking is now live on Ethereum scaling project Matic Network!
Cosmos
Josh Lee of Tendermint and Chainapsis (a member of our latest grant.fish cohort) sat down with iqlusion co-founder Zaki Manian to discuss what to expect from the upcoming Stargate upgrade and what it means for the Cosmos ecosystem.
Stake your ATOM with us!
Band Protocol
Band Protocol's BandChain is continuing to progress rapidly. Stage 3, onboarding public validators, is now underway. Yesterday, the team published an overview of the next steps toward transitioning from Phase 0 to Phase 1.
Stake your BAND with us!
stakefish
After publishing the story behind the design process for our Tamagotchi Zone game, we wanted to share something for our more technically minded users. In our latest blog post, we give an overview of how we built the game, plus some notes on our overall experience participating in Game of Zones.
Founder of stakefish and co-founder of F2Pool Chun Wang recently launched Crypto Tonight: Talk With Chun, a new panel discussion series. Episode I covers the current state of the Korean crypto scene, while Episode II focuses on crypto mining and finance.
---
Website: https://stake.fish
Telegram: https://t.me/stakefish
Twitter: https://twitter.com/stakefish
Instagram: https://www.instagram.com/stakedotfish
LinkedIn: https://b.fish/linkedin