Ethereum community pushes for Proof of Stake
PoS Round-Up is our focused biweekly report on the major news in and around the Proof of Stake ecosystem.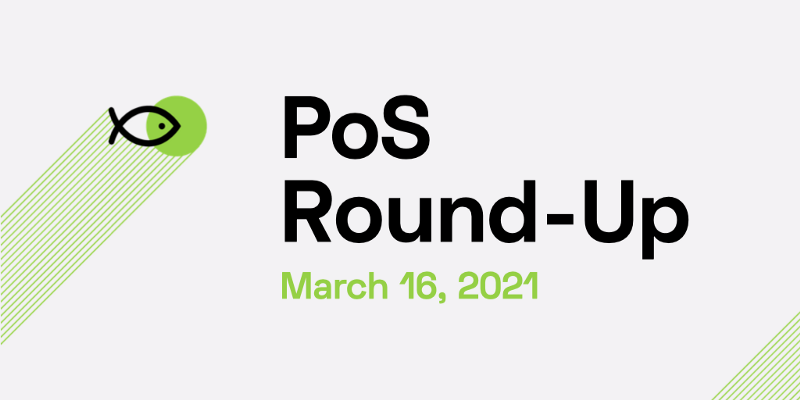 PoS Round-Up is our focused biweekly report on the major news in and around the Proof of Stake ecosystem.
Ethereum
Enthusiasm for the move to Proof of Stake is heating up, and it looks like the community is pushing for it to take place sooner than originally planned. A proposal for executing the merge was made last week.
The Beacon Chain continues to run smoothly, with no further slashing events. The validator queue, which has been full since the network launched back in December, is finally clear. With 900 validators launched every day, depositors no longer need to wait three weeks for their validators to be activated.
Bits & Bytes
Cosmos
Cosmos governance proposal 41 to enable IBC transfers is currently being voted on. As expected, almost all votes are in favor of the proposal.
NuCypher
Keep and NuCypher are discussing a "hard merge" called Keanu. A merger between two large decentralized projects should be an interesting event to watch unfold.
Tezos
A proposal for Florence, the next protocol upgrade for Tezos, has been posted on the Tezos Agora forum.
NEAR and Band Protocol
Band Protocol has announced an integration with NEAR.
stakefish
We've created and released a couple of unique tools for upgrading your profile pictures!
Use our Crypto Laser Eyes app to join the laser eye family and signal your support Bitcoin and Ethereum!
Use our Optimism profile picture generator to show your support for Optimism and their optimistic rollup scaling solution.
We've opened a dedicated Telegram channel to alert our users about infrastructure maintenance and upgrades.
We published brief explainers of the Cosmos Stargate upgrade and Ethereum Optimism's optimistic rollup scaling solution for Ethereum.
We've started posting our company FishTalks and TechTalks on different topics in crypto and technology.
---
About stakefish
stakefish is the leading validator for Proof of Stake blockchains. With support for 10+ networks, our mission is to secure and contribute to this exciting new ecosystem while enabling our users to stake with confidence. Because our nodes and our team are globally distributed, we are able to maintain 24-hour coverage.
Website: https://stake.fish
Telegram: https://t.me/stakefish
Twitter: https://twitter.com/stakefish
Instagram: https://www.instagram.com/stakedotfish
LinkedIn: https://www.linkedin.com/company/stakefish/