EIP-4488, Moonbeam wins Polkadot parachain, Cardano dApp partners with NEAR
PoS Round-Up is our focused biweekly report on the major news in and around the Proof of Stake ecosystem.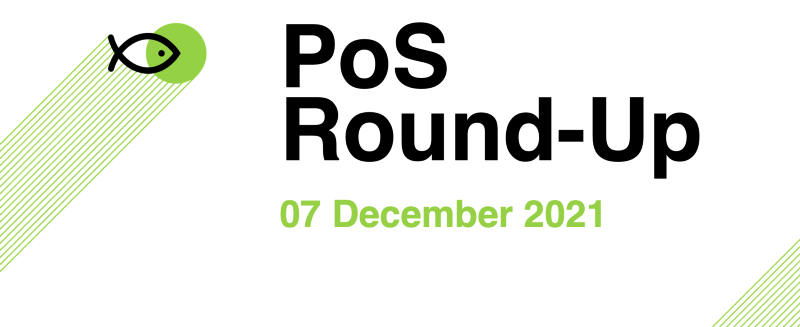 PoS Round-Up is our focused biweekly report on the major news in and around the Proof of Stake ecosystem.
---
Ethereum
Etherum co-founder, Vitalik Buterin, co-authored a new Ethereum Improvement Proposal called EIP-4488, designed to lower Layer 2 gas fees in the short term while more effective long-term solutions are developed. The new proposal seeks to decrease gas fees in two ways: by decreasing transaction calldata cost, a primary mechanism for both Optimistic Rollups and ZK-Rollups, and by adding a ceiling for total transaction calldata that can be in a block.
Cardano
Ardana, Cardano's stablecoin hub, partners with NEAR Protocol to allow asset transfers between the two blockchains; Ardana will provide the bridging infrastructure. The agreement will also enable both networks to discover new development opportunities across the blockchain ecosystem.
SundaeSwap, a decentralized exchange on Cardano, launched it's testnet version.
Polkadot
Moonbeam wins Polkadot's 2nd parachain auction. The Ethereum Virtual Machine (EVM) compatible smart contract platform set a new record for crowdloans, receiving over 35 million DOT from contributors worldwide.
Astar Network, a multi-chain DApp hub, wins Polkadot's 3rd parachain auction. Astar will be onboarded at block #8,179,200, along with 5 other auction winners, estimated to happen on Dec. 18.
Moonbeam
Treasureland, a cross-chain NFT platform, integrates with Moonriver, allowing its users to list, purchase, and trade Moonriver-based NFTs. The NFT platform will also receive a grant from the Moonbeam Foundation, with the intention of supporting the NFT ecosystem on the Moonriver network.
Chainlink Price Feeds are now live on Moonriver, allowing developers on its network to leverage the oracle's leading functionality for DeFi smart contracts.
Impermax, a leveraged yield farming protocol, announced it will go live on Moonriver, launching leveraged yield farming for Solarbeam pairs.
DODO, a next-generation decentralized exchange & liquidity aggregator powered by the Proactive Market Maker algorithm (PMM), is now live on Moonriver. As opposed to an AMM-based Decentralized Exchange (DEX), a PMM-based DEX allows traders to benefit from lower slippage.
Polygon
Leading liquid staking protocol, Lido, will add Polygon to its platform. Users will be able to stake their MATIC and use stMATIC on the secondary market.
21Shares, a crypto exchange-traded product (ETP) issuer, will list Europe's first ETP linked to the performance of Polygon in Paris and Amsterdam. The listing follows the Polygon ETP's unveiling on the SIX Swiss Exchange last month.
NFT marketplace, Openbisea, and its native token OBS will be launching on Polygon network through the Initial Fund Offering (IFO) launchpad, PolyDefi.
Wintermute, a leading digital asset market maker, announced a strategic partnership with Polygon network to grow the Polygon ecosystem. Wintermute is launching a $20 million fund as part of this initiative.
Solana
Crowny, an advertising platform that allows users to reach their target demographic, partnered with Raydium, a leading AMM and DeFi application, to migrate to the Solana blockchain.
Bonfida, a full product suite that bridges the gap between Serum, Solana, and the user, announced the launch of Jabber, an on-chain messaging application built on Solana.
Cosmos
Cosmos governance submitted Proposal #59 to adopt gaia v6.0.0, which includes a number of updates, fixes and new modules. Voting has started and ends on Dec.12, 2021.
On November 16, 2021, NFTs as digital twins to fine art Chinese paintings, were successfully transferred from BSN Open Permissioned Blockchain (OPB) WenChang Chain to Ethereum for the first time through Cosmos Terser Inter-Blockchain Communication (TIBC) protocol.
The Graph
Vitalik Buterin mentions indexing protocol, The Graph, could be a potential data storage solution in his plans to revolutionize the network throughput of Ethereum 2.0 with ZK-rollup. Zero Knowledge (ZK) is a cryptographic technique that enables one party to validate another's block as true without needing to provide a proof of the blockchain data.
Tezos
Rarible.com announced it will integrate Tezos into its NFT marketplace, allowing it to bring a wave of new creators and collectors.
NEAR Protocol
Aurora, an EVM that allows projects built on Ethereum to leverage features from NEAR Protocol, partners with blockchain technology company, ConsenSys, to provide developers in the NEAR ecosystem access to its suite of tools, including MetaMask and Infura.
Flux, a cross-chain oracle and oracle aggregator, launches on NEAR Protocol. Flux brings secured data feeds to high throughput data apps on the NEAR blockchain, like trading platforms.
NEAR Foundation awarded a $50,000 grant to Electron Labs, a project that helps blockchains seamlessly communicate with each other, to improve cross-chain security. The grant will help Electron deploy a new way of validating and securing transactions between NEAR and Ethereum.
NEAR Foundation awarded another $50,000 grant to WannaSwap, a new DEX powered by Aurora. The grant will be used to help WannaSwap further build its functionality and grow its user base.
Band Protocol
QANplatform, a quantum-resistant Layer 1 hybrid blockchain platform, integrates with Band Protocol oracle, allowing developers to connect their quantum-resistant smart contracts, DApps, DeFi, Token, NFT and Metaverse use-cases with the largest collection of data feeds.
Iris Network
The Irishub v1.2.1 upgrade was successfully completed on November 23, 2021. The upgrade solved issues related to Inter Blockchain Communication (IBC) transactions.
Casper
CasperLabs announced a partnership with Fountainhead Technology Co., a leading tech-consulting company, to build an NFT platform on the Casper Network for the jade industry in Jieyang, China. The city of Jieyang hosts 80% of the global market share of emerald and mid-to-high-end jade.
xDAI
DeHive, a decentralized protocol that indexes DeFi tokens, integrates xDai blockchain. The cooperation will allow DeHive to expand to other exchanges and DeFi protocols.
Gnosis and xDai community submitted proposal GIP 16 — Gnosis Chain — xDAI/Gnosis merge. The proposal intends to merge the tokens from both chains and together develop the xDAI Blockchain under the name "Gnosis Chain" with an ambitious technical roadmap. Three amendments were recently added to the merger proposal. Voting started November 30, 2021 and ends today.
Persistence
Persistence's native token, XPRT, is now supported on Keplr wallet.
Juno
Juno is scheduled to launch its Moneta upgrade on December 15, 2021, enabling interoperable smart contracts on its network.
---
About stakefish
stakefish is the leading validator for Proof of Stake blockchains. With support for 10+ networks, our mission is to secure and contribute to this exciting new ecosystem while enabling our users to stake with confidence. Because our nodes and our team are globally distributed, we are able to maintain 24-hour coverage.
Website: https://stake.fish
Telegram: https://t.me/stakefish
Twitter: https://twitter.com/stakefish
Instagram: https://www.instagram.com/stakedotfish