Visa's Universal Payment Channel, fashion NFTs on Polygon and Flow partners with NFL
PoS Round-Up is our focused biweekly report on the major news in and around the Proof of Stake ecosystem.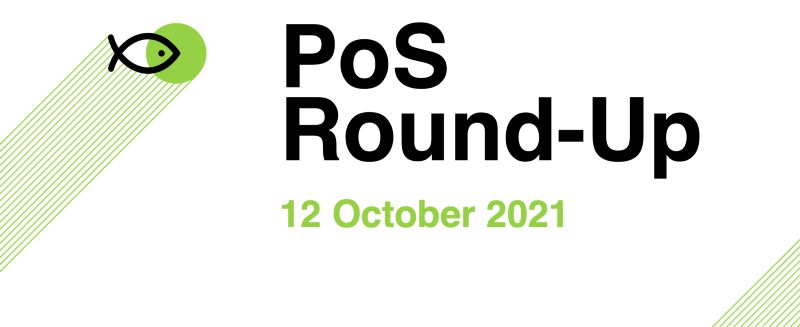 PoS Round-Up is our focused biweekly report on the major news in and around the Proof of Stake ecosystem.
---
Ethereum
Visa is working on an initiative that allows various blockchains to connect, enabling a single universal payment channel for different cryptocurrency networks, such as those from stablecoins and Central Bank Digital Currencies (CBDC).
A bug in the ETH 2.0 staking protocols of Rocket Pool and Lido Finance has been safely patched. The vulnerability was found by Dmitri Tsumak, founder of StakeWise, a competitor of the affected platforms.
DeFi Lending Protocol, Compound, smart contract exploit puts $160 millions worth of COMP at risk. As of Oct. 3, 2021, a patch has been deployed and 117K COMP ($38 million USD) have been returned to the community.
Cardano
Fund 6 voting round for Project Catalyst, a governance mechanism to allow the community to self-determine Cardano's priorities for growth, is available. Timeline: Oct 7–21, 2021.
Polkadot
Moonbeam collaborates with KYVE Network, an archiving and caching solution for blockchains, to allow its developers to easily store their data permanently, enabling higher scalability.
Heiko Finance wins Kusama's latest parachain auction. Heiko is the sister network to Parallel Finance, a decentralized money market protocol that offers lending, staking, and borrowing on Polkadot.
Polygon
Dolce & Gabbana launched a series of NFTs on the luxury marketplace UNXD, which is built on the Polygon network. The fashion brand has fetched around $6 million dollars in its NFT sales.
A bridge between the Cosmos and Polygon networks is now available through Sifchain, a decentralized exchange (DEX) that allows cross-chain integration.
The Swiss postal service plans to roll out tradable digital stamps that are linked to physical stamps on the Polygon network.
Solana
Chingari, India's short video platform and TikTok rival, raises $19 million dollars from crypto investors and plans to launch its social token on Solana.
Bancambios, the first environmental impact-driven DeFi trading ecosystem, has launched on the Solana network.
Cosmos
Juno, a highly scalable, interoperable smart contract network built on Cosmos, successfully launched its Mainnet on October 1st.
Injective, a layer-2 decentralized finance (DeFi) protocol designed for cross-chain derivatives trading, passed a proposal to enable the Cosmos network to interact with the exchange passed.
Tezos
Tezos will present an interactive exhibit of NFTs on Art Basel 2021 (Dec. 2–4), designed to explore a new frontier of art, technology, and culture.
The Graph
The Graph will integrate with Arweave, a leading decentralized data storage protocol, to allow users to store data permanently with a one-time upfront fee.
NEAR Protocol
Open Forest Protocol, a blockchain platform for next generation forest projects, partners with NEAR Protocol to provide an on-chain carbon economy, including a data auditing platform to make forestation transparent, accountable, and scalable.
NEAR Protocol launched private shards for enterprise clients. Private shards allow public and private datasets to blend seamlessly and securely on the open web.
Opera, the world's first browser with Web 3 capabilities and a built-in crypto wallet, adds NEAR Protocol to its native wallet. The collaboration allows both platforms to leverage each other's user base.
Flow
Flow developer Dapper labs partners with the NFL to create an NBA Top Shot-style NFT marketplace for digital football collectibles.
Band Protocol
Moonriver, the Ethereum-compatible, smart-contract parachain on Kusama, integrates Band Protocol as an oracle for its ecosystem.
Band Protocol development team submitted a proposal to enable oracle requests through (Inter Blockchain Communication) IBC. The proposal would provide a secure and decentralized method for other chains to access oracle data.
Casper Labs
IPwe, a global intellectual property (IP) market that connects the world's patent ecosystem on a single platform, partners with Casper Labs to improve IP rights management.
---
About stakefish
stakefish is the leading validator for Proof of Stake blockchains. With support for 10+ networks, our mission is to secure and contribute to this exciting new ecosystem while enabling our users to stake with confidence. Because our nodes and our team are globally distributed, we are able to maintain 24-hour coverage.
Website: https://stake.fish
Telegram: https://t.me/stakefish
Twitter: https://twitter.com/stakefish
Instagram: https://www.instagram.com/stakedotfish
YouTube: https://www.youtube.com/c/stakefish