NFTs on Samsung TVs, Cardano 1M tree milestone & Moonbeam launches on Polkadot
PoS Round-Up is our focused biweekly report on the major news in and around the Proof of Stake ecosystem.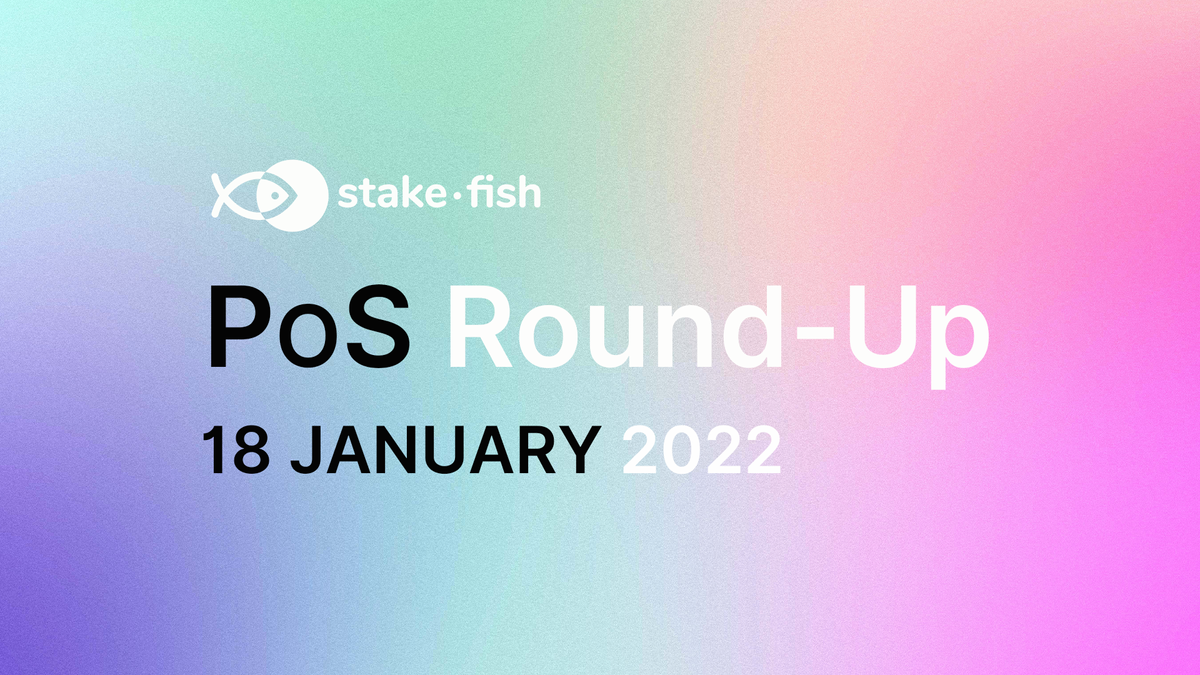 PoS Round-Up is our focused biweekly report on the major news in and around the Proof of Stake ecosystem.
---
Ethereum
Samsung Electronics announced its adding support for NFTs to its 2022 TV lineup, including a screen-based explorer and an NFT marketplace aggregator.
Ethereum co-founder, Vitalik Buterin, has proposed a new update for Ethereum, called "multidimensional EIP-1559". Introduced in August, EIP-1559 involves burning a portion of ETH with every transaction, making the supply more scarce. In a new blog post, Buterin wrote that the current system does a poor job at handling the different capacity limits of the various resources in the Ethereum Virtual Machine (EVM). The new proposal would allow for distinct targeting schemes to be used for each resource.
The Ethereum 2.0 deposit contract surpassed $30 billion in value. The deposit contract allows users to migrate their funds from the Ethereum mainnet to the Beacon Chain, a parallel Proof-of-Stake network. Ethereum's switch to Proof-of-Stake is tentatively scheduled in June 2022.
Solana
Zeta Markets, a DeFi derivatives exchange offering features found in traditional finance, went live on Solana Mainnet. Zeta offers a list of features traditionally found on institutional-grade centralized exchanges, including undercollateralized trading, portfolio cross-margining, sub-second mark-to-market updates, and instant settlement, among others.
Solana suffered yet another distributed denial of service (DDos) attack on January 4, 2022. The network quickly fixed the issue by 7:00 that morning (UTC+8). This is the third attack on the blockchain in the past six months; the last one happened in December, 2021.
Polygon
EIP-1559, the Ethereum upgrade that introduced a partial network fee burning mechanism last August, launches on Polygon. The team stated that they expect Polygon's native token, MATIC, to become deflationary with 0.27% of the total supply being burned every year.
American non-profit news agency, Associated Press, is launching a Polygon-based NFT marketplace where collectors will be able to purchase tokenized photographs from the global news platform. They will be released over several weeks starting on Jan. 31 for varying prices.
In a recent blog post, Polygon claimed that its Plonky2 technology is 100x faster than existing alternatives and natively compatible with Ethereum. Plonky2 is a SNARK (Succinct Non-interactive Argument of Knowledge), a type of Zero-Knowledge (ZK) technology that offers fast proofs without revealing the contents of that data.
Polygon suffered a blockchain-wide slowdown, driven by a swarm of players of Sunflower Farmers, a popular play to earn game on the network. The congestion was likened to an accidental DDos attack.
Cardano
The Cardano Forest, an ecological restoration effort using the Cardano blockchain, recently reached the milestone of 1 million trees planted. The Cardano foundation has partnered with crypto startup Veritree for the planting effort. Veritree uses blockchain technology to record tree plantations for its users. Veritree plants a tree each time Cardano's ADA currency is exchanged for a TREE token.
Demand has surged for plots of virtual land on Pavia, the first metaverse platform on the Cardano blockchain. The new metaverse launched last week and more than 60% of the 100,000 units have been sold since the pre-sale started last October. However, users aren't able to deploy assets over their plots on the platform yet.
Polkadot
Composable Finance, a cross-chain and cross-layer interoperability platform, wins Polkadot's seventh parachain auction.
Robonomics, a decentralized cloud for storing digital twins of robotics and IoT devices, won Kusama's latest parachain.
Moonbeam
Moonbeam, the Ethereum compatible smart contract platform on Polkadot, has completed its launch process on the network, enabling more than 80 projects to be deployed in its ecosystem. Trading and staking for its native token, GLMR, was also enabled and part of the rewards for those that contributed to the crowdloan started to be distributed.
Zenlink, cross-chain decentralized exchange (DEX), is now live on Moonbeam. The DEX also launched liquidity incentives for Moonbeam's native token, GLMR, and assets cross-chained from other blockchains.
Tezos
Apparel retailer, The Gap, is launching NFT collectibles on the Tezos blockchain, called Gap Threads. Some of the NFTs will include a limited edition physical hoodie. Each hoodie-themed NFT was created in collaboration with Tezos-centric production studio InterPop, and features the artwork of Brandon Sines, creator of the character Frank Ape.
Cosmos
Blockchain company, Datachain, received a grant from Harmony to build a bridge between the Harmony and Cosmos network. The bridge will allow assets to move between Harmony and IBC-enabled blockchains, such as Cosmos, Terra, JUNO and Osmosis.
NEAR Protocol
The NEAR MetaBUILD Hackathon is live. The competition asks participants to build apps on the NEAR blockchain to compete for $1 million worth in prizes, spread out over various awards. The deadline to submit projects is February 10, 2022.
Flow
Barbie partners with fashion brand, Balmain, to create NFTs on the Flow blockchain. A virtual drop of the new collectibles started last January 11 on NFT marketplace, MintNFT.
Kava
The Kava 9 mainnet upgrade is scheduled to launch on January 20, 2022. The upgrade will unlock new assets and earning opportunities with the integration of the IBC protocol.
Band Protocol
Brand Protocol is now live on Celo, a mobile-first, carbon-neutral blockchain that makes DeFi tools and services accessible to anyone with a mobile phone. The integration enables projects built on Celo to receive real-world data, expanding the ecosystem's reach into external data on legacy systems.
Gnosis Chain (formerly xDai)
Cryptocurrency hardware wallet, D'CENT, released a new update that includes support for Gnosis Chain. The update includes support for Gnosis Chain based token assets, like the xDAI stable token.
---
About stakefish
stakefish is the leading validator for Proof of Stake blockchains. With support for 10+ networks, our mission is to secure and contribute to this exciting new ecosystem while enabling our users to stake with confidence. Because our nodes and our team are globally distributed, we are able to maintain 24-hour coverage.
Website: https://stake.fish
Telegram: https://t.me/stakefish
Twitter: https://twitter.com/stakefish
Instagram: https://www.instagram.com/stakedotfish