NFTs on Coinbase, Polkadot parachain auctions, Lisbon blockchain conferences
PoS Round-Up is our focused biweekly report on the major news in and around the Proof of Stake ecosystem.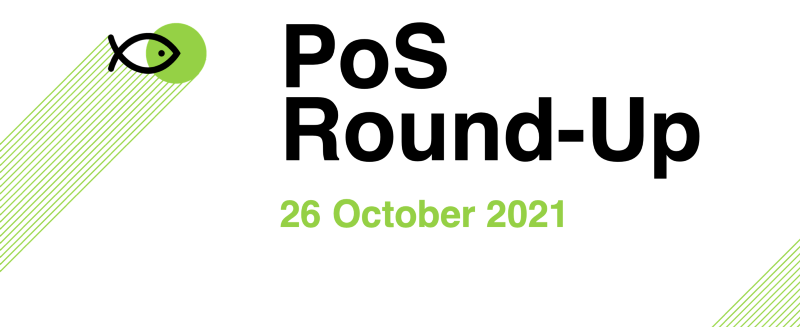 PoS Round-Up is our focused biweekly report on the major news in and around the Proof of Stake ecosystem.
---
Ethereum
Coinbase announced it will launch an NFT marketplace, which will initially support Ethereum-based NFTs. It plans to support other chains soon after. A waitlist is now available for early access to the digital collectibles.
Cardano
RavenDex, a Cardano-based decentralized exchange, released a demo last week. The DEX will enable users to offer liquidity for market pairs utilizing the performance, and low fees of the Cardano blockchain.
Polkadot
Polkadot announces Nov. 11, 2021 as the date to begin its much anticipated parachain auctions, which are held to determine the projects that will be allocated slots for building on its blockchain network.
Soon after unveiling the date to begin parachain auctions, Polkadot founder, Gavin Wood, announced a $777 million development fund, which will be disbursed through community governance.
Crust Network, a decentralized InterPlanetary File System (IPFS)-compatible storage network, integrates with Moonriver to bring Web3 storage solutions to Kusama.
Polygon
DraftKings partners with Polygon to accelerate the adoption of NFTs and Web3. In addition to building the digital collectibles on Polygon, the sports betting platform has the option to support the network by providing a Proof of Stake validator. Click here to visit the NFT marketplace.
Outlier Ventures, a venture platform that supports the development of emerging technologies, and Polygon launched an accelerator program to help grow promising Web3 projects.
Solana
Breakpoint 2021, the first global offline conference organized by the Solana Foundation, will bring together industry leaders, builders, and innovators. The event will happen November 7–10 in Lisbon, Portugal.
FTX will create NFTs built on Solana based on the classic Mexican game Lotería. Proceeds from the effort will be used to fund non-profit programs that focus on educating and training young hispanic engineers on blockchain technology.
Tezos
McLaren Racing announced it will launch Tezos-based NFTs on Sweet, a leading digital collectible marketplace. Click here to subscribe to their newsletter.
Cosmos
Cosmoverse, a community-organized conference to bring awareness and education on the Cosmos Ecosystem, will happen November 5–6, 2021 in Lisbon, Portugal.
The Strange Clan, the first play to earn (P2E) NFT game developed on Cosmos, will launch soon.
The Graph
The Graph integrates its indexing protocol onto the Moonriver network, enabling developers to build, publish and use subgraphs in a Kusama-based environment.
Encode Club, an online blockchain education platform, collaborates with The Graph to educate developers on Web3 and on building applications with The Graph.
NEAR Protocol
Aurora, a platform that allows Ethereum Virtual Machine (EVM) smart contracts to run on the NEAR blockchain, raises $12 million to expand the layer 2 ecosystem. Aurora wants to position itself as a complement to Ethereum, rather than a competitor.
NEAR joined the stablecoin coalition created by OIN, a multi-chain decentralized stablecoin issuance and trading platform, to help onboard the next generation of DeFi users.
NEAR will launch an $800 million grant fund, possibly setting a new high for ecosystem development funds. DeFi will be a major focus of the program.
NEAR posts an open call for feedback on its Governance Forum Revamp proposal, which suggests decisions will be made using a data-driven approach.
Flow
Filecoin, an open-source cloud storage marketplace, protocol, and incentive layer, became the official storage collaborator for the Flow blockchain. The effort will help make NFTs on the network more decentralized.
Band Protocol
Band Protocol integrates its oracle data to the Polyjuice testnet, a layer 2 on top of Nervos Common Knowledge Base (CKB), to further develop a safe and scalable DeFi ecosystem.
NASDEX, a synthetic asset exchange that targets Asian equity markets, partners with Band Protocol to allow for custom oracle feeds.
Edgeware
Edgeware submitted a treasury proposal to fund a film about its community.
xDAI
Wildhorn v2 testnet has begun on the xDai chain. Participants can run nodes to help stress-test the network and earn HOPR Boost NFTs.
---
About stakefish
stakefish is the leading validator for Proof of Stake blockchains. With support for 10+ networks, our mission is to secure and contribute to this exciting new ecosystem while enabling our users to stake with confidence. Because our nodes and our team are globally distributed, we are able to maintain 24-hour coverage.
Website: https://stake.fish
Telegram: https://t.me/stakefish
Twitter: https://twitter.com/stakefish
Instagram: https://www.instagram.com/stakedotfish
YouTube: https://www.youtube.com/c/stakefish