Mina is live, IBC token transfers enabled on Cosmos
PoS Round-Up is our focused biweekly report on the major news in and around the Proof of Stake ecosystem.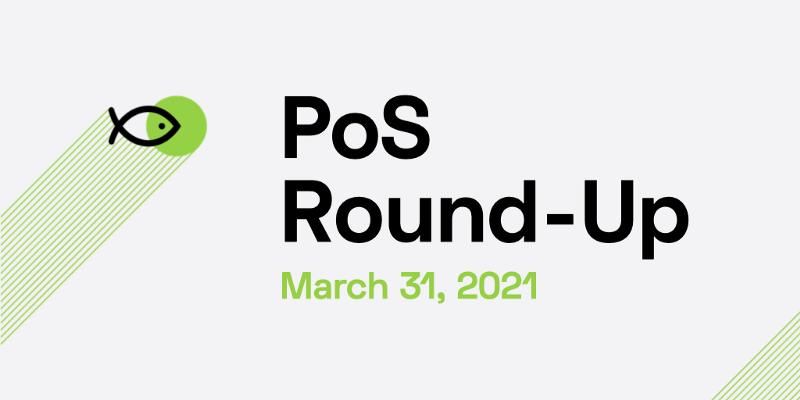 PoS Round-Up is our focused biweekly report on the major news in and around the Proof of Stake ecosystem.
Ethereum
Once again, it's been smooth sailing for Ethereum 2.0. It has now been seven months since the last slashing event.
Tim Beiko's new AllCoreDevs updates are a great round-up of Ethereum's latest technical developments.
Bits & Pieces
PayPal has enabled crypto payments for some online purchases
Visa has announced support for the USD Coin stablecoin
Twitter founder Jack Dorsey sold his first Tweet as an NFT for $2.9M
Mina
After three years of work, the world's lightest blockchain is live!
Learn more about Mina and their quest for internet privacy and data security in the official announcement:
Cosmos
The proposal has passed and IBC token transfers are officially live on the Cosmos network!
Solana
Exchanges OKEx and MXC will be investing $40M to help catalyze the development of a DeFi ecosystem on Solana.
Polygon
1Hive has built a bridge between Polygon (previously Matic Network) and xDai, a popular Ethereum sidechain.
Harmony
Harmony has launched a bridge to the Binance Smart Chain.
stakefish
We hosted a live AMA with Medha Parlikar, CTO of CasperLabs.
The sands are shifting in the land of the blockchain kingdoms.
The Chain Wars: A Song of Staking
"But from the fabled halls of the Ethereum Kingdom you can almost hear the philosopher-king Vitalik muttering, 'When you come for the king, you best not miss.'"
Read the full story here.
We've been upping our meme game. Follow us on Twitter for more!
We're sponsoring the Green NFT hackathon.
We published the third and final part of our Protocol Specialist Daniel Hwang's series on decentralization transparency in Ethereum 2.0.
We announced support for The Graph and Mina Protocol.
We began our new Eth2 Data Round-Up series.
---
About stakefish
stakefish is the leading validator for Proof of Stake blockchains. With support for 10+ networks, our mission is to secure and contribute to this exciting new ecosystem while enabling our users to stake with confidence. Because our nodes and our team are globally distributed, we are able to maintain 24-hour coverage.
Website: https://stake.fish
Telegram: https://t.me/stakefish
Twitter: https://twitter.com/stakefish
Instagram: https://www.instagram.com/stakedotfish
LinkedIn: https://www.linkedin.com/company/stakefish/