Ethereum update Bellatrix, Cardano 2022 plans & Solana is carbon neutral in 2021
PoS Round-Up is our focused biweekly report on the major news in and around the Proof of Stake ecosystem.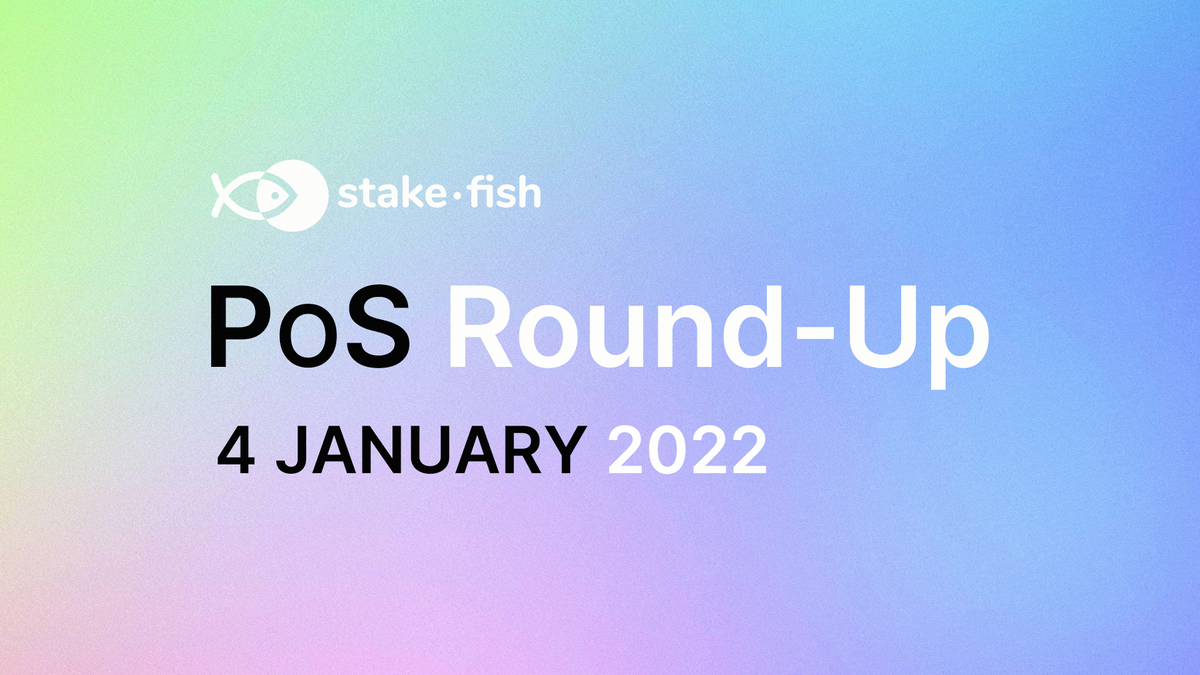 PoS Round-Up is our focused biweekly report on the major news in and around the Proof of Stake ecosystem.
---
Ethereum
The long-awaited update that will move the Ethereum network to the full proof-of-stake (PoS) protocol and remove miners from the network's functionality is getting ready to be released and just received a new name tied to the third-biggest star in the Orion constellation, Bellatrix. The release of the update is planned for sometime between Q1 and Q2 2022.
Enterprise Ethereum Alliance (EEA), the hub for open source-based standards development in the Ethereum industry, announced that the software giant, SAP, has become a sponsor of the initiative in support of the Baseline Protocol project. The Baseline Project is an open source initiative that combines advances in cryptography, messaging, and blockchain to deliver secure and private business processes at low cost using the public Mainnet for event ordering, data consistency and workflow integrity.
The American retailer, RadioShack, is launching a DeFi market, including a RADIO token on Ethereum, and intends to bridge the gap with older generations and bring blockchain technology closer to mass adoption. While the timeline for the launch is unclear, you can get notified by joining their waitlist with your email on their website.
Cardano
Cardano founder, Charles Hoskinson, revealed plans for the network in 2022 in a 30-minute Christmas Eve talk on YouTube from his home in Boulder, Colorado. The plans include the creation of a formal open-source project structure that oversees the creation of decentralized products on the network, among other developments.
Polkadot
Polkadot began its 2nd batch of parachain auctions with cross-chain NFT platform, Efinityio, winning the latest one.
Crust Network, a decentralized storage protocol that provides an incentive layer for IPFS storage network nodes, wins Kusama's latest parachain auction.
Moonbeam
Moonbeam, the Ethereum compatible smart contract platform on Polkadot, began its decentralization process and added 24 third-party collators to 8 existing in the active set. Collators are full nodes on the Polkadot network that are present both on parachains and the main relay chain. This marks the beginning of phase one of the Moonbeam launch process and the final phase before the network's full go-live, which is expected to happen in mid-January.
Cross-chain DEX, Huckleberry, announced the launch of Thatcher's Reservoir on Moonriver. This is the first platform to offer a fully-fledged, in-house DEX and lending protocol on Moonriver.
Polygon
MassBit, a platform that provides decentralized solutions for Defi and Web3 project development, went live on Polygon. Thanks to MassBit's cross-chain indexing solution, development teams can remove about 80% of a work pipeline, allowing them to focus a huge amount of resources on other important tasks.
UNXD, a luxury NFT marketplace built on Polygon, announced it will host a virtual fashion week on the popular metaverse Decenterland. The show, which will take place March 24–27, will allow users to view fashion in a virtual environment and purchase outfits for their online avatars.
DeFi aggregator, Paraswap, launched its PSP token on Polygon. Quickswap, an Automated Market Maker (AMM) on Polygon, also enabled liquidity mining for the PSP and MATIC token pair.
Solana
The Solana Foundation announced the Solana blockchain achieved carbon neutrality for 2021. A recent analysis estimated that a single Solana transaction uses only 1,939 Joules, which is the equivalent to leaving a LED lightbulb on for little more than 3 minutes. The foundation also announced it will fund a process called refrigerant destruction, which Green America lists as one of the highest-impact ways to reduce carbon emissions.
Pyth Network, a specialized oracle solution for latency-sensitive financial data, is now available to all protocols using Neon's EVM, a tool that allows Ethereum-like transactions to be processed on Solana. This implementation allows any Ethereum application deployed on Solana to access Pyth network's high fidelity price feeds and to power their protocols.
Katana, a yield farming platform on Solana, has integrated Aleph.im, a cross-blockchain decentralized storage and computing network. The integration will help Katana to keep track of all of its user deposits, withdrawals, and vault transactions without the need for centralized storage or indexing solutions.
Cosmos
HackAtom 6, the biggest hackathon in Cosmos history, has come to an end. The competition attracted developer talent with a large prize pool of more than $1,000,000 in ATOM spread out over seven diverse categories and 25 individual sponsored challenges.
The Graph
Entropyfi, a lossless decentralized gamified prediction market on crypto-assets, NFTs, DeFi indexes, and other on/off-chain assets, showcased its integration with The Graph. The Entropyfi dev team decided to utilize a subgraph on The Graph's hosted service to fulfill the queries and hence improve the user experience.
Asian decentralized NFT marketplace, CryptoArt.Ai, announced it's using The Graph's subgraphs for its platform.
NEAR Protocol
Applications are now open for NEAR Bootcamp, a coding education program for developers that want to build on NEAR protocol. The program is a collaboration with online blockchain education platform, Encode Club, and will run over two weeks, with 90-minute daily sessions Monday to Friday, in mid-January 2022.
Flow
Sportium successfully closed an investment from Dapper Labs and it will build out its multi-sports NFT platform on the Flow blockchain.
Dapper Labs-backed collectibles company, Tibles, announced it will create "Seussibles", which are NFT versions of trading cards featuring Dr. Seuss characters that will run on the Flow blockchain.
IRIS Network
IRIS Foundation announced it launched IRISgardians, an ambassador program to look for passionate IRISnet community members. IRISgardians will benefit from an exclusive channel where they can communicate, interact and work with other members of the program and the core IRISnet team, receive project updates and they may receive exclusive IRIS token rewards. Refer to the article on the link below for information on how to apply.
IOBScan-IBC, a new cross-chain explorer on the IRISNet ecosystem that inspects Inter-Blockchain Communication (IBC) transactions, launched last December 23rd.
Casper
Ferrum Network, a cross-chain Blockchain as a Service DeFi company, received a grant from DEVxDAO that will allow it to integrate its Cross-Chain Token Bridge and other products with Casper Network.
Gnosis Chain (formerly xDai)
Gnosis Chain has partnered with DAppNode to launch an incentive program with the goal of bringing individual node runners into securing the Gnosis Chain ecosystem.
DeHive, a decentralized protocol that allows users to become holders of top DeFi tokens, released a new cluster of tokens on Gnosis Chain.
OpenOcean, a decentralized full aggregation protocol that sources liquidity from mainstream public chains with intelligent routing, announced its expansion to Gnosis Chain.
Persistence
AssetMantle, a framework for NFT marketplaces on Persistence, has opened applications for its Genesis Creators program. The creators that are accepted will be able to launch their own NFT stores and collections on AssetMantle.
Juno
JunoSwap, a new decentralized AMM on Juno Network, announced the launch of its testnet. Users are able to test the dApp and provide feedback on their social media channels.
---
About stakefish
stakefish is the leading validator for Proof of Stake blockchains. With support for 10+ networks, our mission is to secure and contribute to this exciting new ecosystem while enabling our users to stake with confidence. Because our nodes and our team are globally distributed, we are able to maintain 24-hour coverage.
Website: https://stake.fish
Telegram: https://t.me/stakefish
Twitter: https://twitter.com/stakefish
Instagram: https://www.instagram.com/stakedotfish