Ethereum NFT music group, Moonriver multi-chain NFTs, Solana & Reddit fund
PoS Round-Up is our focused biweekly report on the major news in and around the Proof of Stake ecosystem.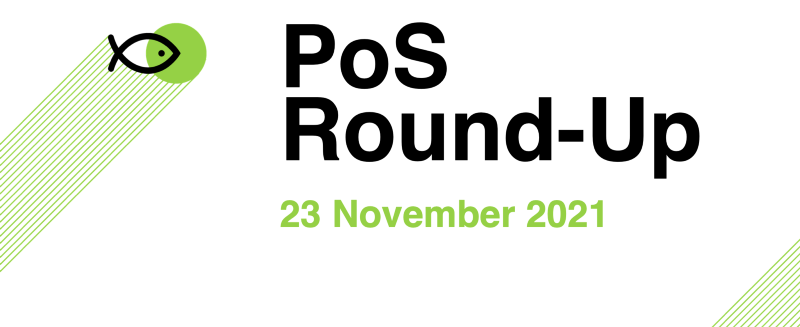 PoS Round-Up is our focused biweekly report on the major news in and around the Proof of Stake ecosystem.
---
Ethereum
Universal Music Group's next-gen Web3 label, 10:22PM, has created KINGSHIP, the first-ever virtual music group with NFT characters, based on the popular digital collectibles on the Ethereum blockchain, Bored Ape Yacht Club. The virtual group will guide the label in developing and releasing new music and artists, NFTs, community-based products, activations and experiences in the metaverse.
As part of a partnership with Galaxy Digital to help educate its readers on the metaverse, TIME Magazine announced it will hold Ethereum on its balance sheet. The magazine has been holding Bitcoin since April and previously announced it would be allowing readers to pay for digital subscriptions using cryptocurrency.
Polkadot
DeFi protocol, Acala Network, won the first Polkadot parachain auction. Acala will be onboarded at block #8,179,200, along with 5 other auction winners, estimated to happen on Dec. 18.
Genshiro, a cross-chain protocol that helps users seamlessly earn yield, burrow and trade on margin, has won the latest Kusama parachain auction.
Moonbeam
Moonriver will integrate with RMRK, a multi-chain NFT protocol on Kusama. This will allow Moonriver and other Ethereum Virtual Machine (EVM) chains to work with RMRK's NFT infrastructure, providing advanced features for developers, creators, and collectors across the Kusama ecosystem.
Moonbeam Network announced it will collaborate with Lido Finance, a leading liquid staking derivatives protocol, to allow Polkadot and Kusama holders to stake their assets while at the same time accessing the liquidity of that staked position (i.e. liquid staking).
Moonriver's native token, MOVR, has been listed on leading centralized exchange, Binance.
Moonriver is now integrated with DeFi tracking platform, Debank.com.
Polygon
Akash Network, a decentralized marketplace for leasing cloud computing resources, partners with Polygon Network to allow developers a cost-effective option to deploy and scale their applications and services while eliminating their reliance on a single cloud provider.
The smart contract automation services from leading decentralized oracle, Chainlink, are now live on Polygon Network, including Chainlink's price feeds and Verifiable Random Function (VRF).
Blockchain domain name company, Unstoppable Domains, completed the first phase of its move to Polygon, in an effort to speed up transactions and to reduce high fees from minting NFTs on the Ethereum network.
Polygon introduces Polygon Miden, a STARK-Based, EVM-Compatible Rollup. Polygon Miden will use Zero Knowledge (ZK), a promising technology for scaling blockchains. ZK Rollups' main drawback is that it is hard for them to support arbitrary logic and transactions. Polygon Miden solves this challenge using its core component, a STARK-based virtual machine.
Solana
Solana Ventures and Reddit co-founder, Alexis Ohanian, team up to launch a $100 million investment fund dedicated to Web3 and social projects.
Phantom, the premier Solana wallet, partners with MoonPay to enable full fiat on-ramp capability for its users.
Huobi ECO (HECO) Chain, a decentralized, EVM-compatible public chain, announced it now enables BTC and USDT transfers to Solana through Allbridge, a token bridge between blockchains.
Cosmos
Cross-chain interoperability platform, Composable finance, announced it will be integrating its cross-layer asset transferral system, Mosaic, with Evmos, an IBC-compatible EVM hub (short for "EVM-on-Cosmos"), to expand its reach into the Cosmos ecosystem.
The Cosmos Hub Testnet for the Vega upgrade successfully passed the upgrade proposal. The goal was to test the gaia v6.0.0-rc3 upgrade proposal and run the network live to monitor for any bugs.
The Graph
Solana integrates The Graph with its network, allowing its developers to utilize subgraphs to connect dApps with the real-time data they need to facilitate price feeds, smart contracts, and complex transactions.
The Graph collaborates with Immunefi to offer a $2.5 million bounty to developers and ethical hackers that discover vulnerabilities in their protocol.
Tezos
Technology start-up accelerator, Entrepreneur First, partners with Tezos to attract founders that seek to develop Web3 applications on the Tezos ecosystem.
The Cambridge Centre for Carbon Credits (4C) will build a decentralized carbon credit marketplace on Tezos to support global reforestation efforts.
Flow
Crust Network, a decentralized storage protocol that provides an incentive layer for IPFS storage network nodes, is partnering with Flow to introduce a storage solution for developers on the Flow blockchain.
NFT Platform, Rarible, integrated Flow blockchain, to reduce gas fees and enhance its user experience.
Blockchain-based payment platform, Wyre, partners with Dapper Labs to offer a fiat-crypto on/off-ramp for developers building an NFT marketplace on the Flow blockchain.
Wonder, a blockchain company that enables DAO's to launch and scale projects on a native web 3 platform, raised $2.5 million in a recent round of funding. Dapper Labs was one of the main backers and Wonder will initially partner with DAOs on the Flow blockchain.
NEAR Protocol
NEAR Protocol launches its phase 0, nicknamed Simple Nightshade, onto its Mainnent. This will be its first step toward a fully sharded and secure blockchain.
Travala.com, a crypto friendly online travel agency, partnered with NEAR Protocol to integrate the NEAR token on the travel website's platform.
Band Protocol
Oasis, a leading decentralized, privacy-enabled, layer-1 blockchain network, will integrate Band Protocol's oracle features to bring open finance to the mass market, beyond traders and early adopters.
Band Protocol announced its BandChain's IBC oracle will be supporting Injective Protocol, to help them build the first cross-chain, fully decentralized exchange targeting derivatives assets.
Edgeware
Edgeware recently approved Treasury Proposal #40 by OpenSquare Network, an application-oriented blockchain network on Polkadot. The proposal aims to build a dashboard for the Edgeware DAO treasury, similar to DoTreasury.
IRIS Network
IRISnet successfully upgraded its Mainnet to Iris HUB 1.2. The upgrade will further push up the network utility rate and better support business applications and use cases, like cross-chain NFTs.
xDAI
Symmetric, a decentralized exchange (DEX) and automated market maker (AMM), launched STAKE, an DeFi incentive program on xDai.
Elk.Finance, a cross-chain interoperability platform, received a grant from the xDai Ecosystem Fund, a program for advancing innovation on xDai. The 6-month progressive grant worth up to $125,000 will be used to accelerate growth of the Elk trading platform and the multi-chain bridge.
Persistence
Persistence's pStake finance, raised $10 million in a recent round of funding. The funds will be used to bootstrap their liquid staking protocol.
---
About stakefish
stakefish is the leading validator for Proof of Stake blockchains. With support for 10+ networks, our mission is to secure and contribute to this exciting new ecosystem while enabling our users to stake with confidence. Because our nodes and our team are globally distributed, we are able to maintain 24-hour coverage.
Website: https://stake.fish
Telegram: https://t.me/stakefish
Twitter: https://twitter.com/stakefish
Instagram: https://www.instagram.com/stakedotfish