Ethereum goes mainstream and Cardano Smart Contracts
PoS Round-Up is our focused biweekly report on the major news in and around the Proof of Stake ecosystem.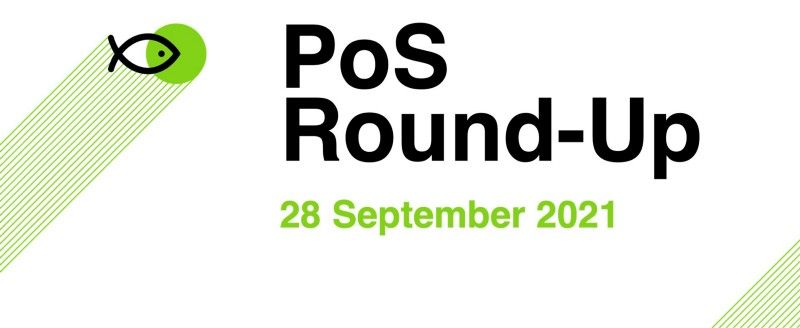 PoS Round-Up is our focused biweekly report on the major news in and around the Proof of Stake ecosystem.
---
Ethereum
Ethereum co-founder, Vitalik Buterin, is named one of Time Magazine's 100 most influential people of 2021.
Fortune Magazine launches a decentralized donations fund on the Ethereum blockchain to foster journalistic integrity.
SushiSwap token launchpad platform, Miso, was hacked for $3M.
Cardano
More than 200 smart contracts have been listed on the Cardano blockchain explorer following the Alonzo upgrade last September 12th.
During Cardano Summit 2021 last Sep. 25–26, The Cardano Foundation unveiled various strategic partnerships.
Polkadot
Moonriver, the Ethereum-compatible smart contract platform developed on Kusama, reaches 1 million transactions in just 3 weeks.
Anyswap, a decentralized cross-chain swap protocol, integrates with Moonriver.
Basilisk, a liquidity bootstrapping protocol, wins the latest Kusama parachain auction.
Polygon
Ernst & Young selects Polygon to scale its blockchain enterprise products on Ethereum.
Klever, a leading crypto wallet and exchange platform, integrates Polygon for scaling solutions.
GAMEE, a mobile esports platform, will use Polygon as its scaling solution for its blockchain gaming application Arc8.
Cosmos
Starname, a decentralized digital identity platform built on Cosmos SDK, has been integrated into Emeris.
Solana
Solana Mainnet restarts after issues processing blocks on the network last September 14th.
Civic Technologies, an identity solution innovator, and Solrise Finance, a decentralized investment platform, introduce first DEX on Solana.
Saber, a leading cross-chain AMM, partners with Allbridge to launch the first Celo-bridged liquidity pool on Solana.
Tezos
Belgian blockchain consulting firm, Block0, becomes a Tezos corporate baker.
New proposal for Tezos protocol upgrade, Hangzhou, to introduce a number of new technical tools and patches.
The Graph
The Web3 Index launches and lists The Graph in its weighted index for monitoring leading Web3 protocols.
NEAR Protocol
NEAR launches Simple Nightshade phase, its first step towards a fully sharded blockchain.
NFT Marketplace, Chronicle, uses NEAR Protocol for its infrastructure as part of its eco-friendly ambitions.
Flow
Google Cloud partners with Flow developer, Dapper Labs, to support blockchain development in NFT and gaming.
Moonpay partners with Blotco to create the first crypto wallet with a fiat on-ramp on the Flow ecosystem.
Band Protocol
Band Protocol has successfully launched its BandChain Phase 2 upgrade, Laozi, on the Mainnet.
Edgeware
Edgeware governance: proposal to activate a more technical council is under discussion.
Casper Labs
Information security & digital identity management company, WISeKey, partners with Casper Labs to build NFT platform on its network.
xDai
BrightDAO, a community for decentralized proof-of-uniqueness, launches on xDai chain.
Persistence
Persistence's liquid staking solution, pSTAKE Finance, launches an uncapped version of ATOM.
---
About stakefish
stakefish is the leading validator for Proof of Stake blockchains. With support for 10+ networks, our mission is to secure and contribute to this exciting new ecosystem while enabling our users to stake with confidence. Because our nodes and our team are globally distributed, we are able to maintain 24-hour coverage.
Website: https://stake.fish
Telegram: https://t.me/stakefish
Twitter: https://twitter.com/stakefish
Instagram: https://www.instagram.com/stakedotfish