Ethereum Altair Upgrade, Sushi on Moonbeam and Solana's IGNITION winners
PoS Round-Up is our focused biweekly report on the major news in and around the Proof of Stake ecosystem.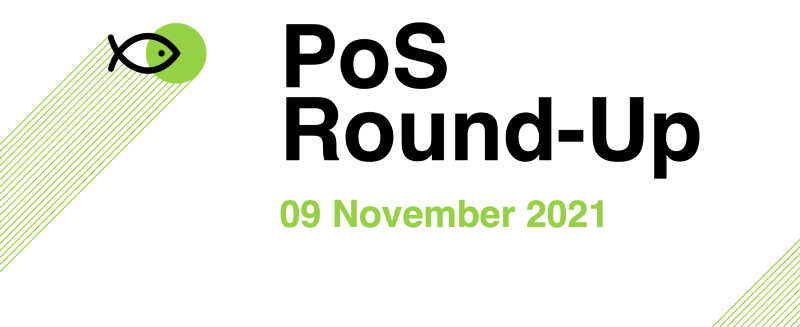 PoS Round-Up is our focused biweekly report on the major news in and around the Proof of Stake ecosystem.
---
Ethereum
The Ethereum Altair upgrade went live on Oct. 27, 2021. Altair is the first update to the Beacon Chain and brings Ethereum one step closer towards the Proof of Stake consensus mechanism. As of Oct. 28, 98.7% of nodes were upgraded, marking a successful start to the move.
Cream Finance, an Ethereum-based lending and borrowing protocol, suffered yet another exploit, this time allowing hackers to steal $130 million from its holdings.
The Sandbox, a gaming platform that allows users to build a virtual world using NFTs, raised $93 million in a recent round of investment led by SoftBank, an investment management firm. The funds will support the platform's growth, as it expands from gaming into fashion, architecture and virtual concerts.
Cardano
Cardano Founder, Charles Hoskinson, signs a memorandum of understanding (MOU) with the government of the Republic of Burundi to bring digitization to the state.
Input Output Global (IOG), the blockchain company that supports the development of Cardano, is partnering with the eGovernment Agency of Zanzibar (eGAZ) to create long-term blockchain solutions, in an effort to make Zanzibar Africa's blockchain hub.
Ardana, a Cardano-based DEX that offers an on-chain asset-backed stablecoin and a decentralized stable-asset, raised $10 million in a latest funding round led by Three Arrows Capital. Ardana plans to become one of the premier DeFi gateways on the Cardano blockchain.
Polkadot
Kraken, a leading centralized cryptocurrency exchange, will allow its users to participate in crowd loans for the upcoming Polkadot parachain auctions directly on its platform.
Composable Finance, a cross-chain and cross-layer interoperability platform, has secured the latest Kusama parachain auction spot with their Picasso project.
Moonbeam
Sushiswap will leverage Moonbeam's Ethereum compatibility features to access the Polkadot ecosystem. Moonriver, which launched as a parachain in Kusama last August, has already deployed the Sushi token on its network and will be used in an upcoming liquidity mining program.
Moonbeam announced the integration with Etherscan, a block explorer and analytics platform for Ethereum Virtual Mahine (EVM)-compatible chains. This version of Etherescan, called Moonscan, will also provide insights into Moonriver, Moonbeam's companion network on Kusama.
Zenlink, an underlying cross-chain decentralized exchange (DEX) protocol, announced a collaboration with Moonbeam network for DEX aggregation on Kusama and Polkadot. Zenlink has already launched on Moonriver and will be deployed to Moonbeam in the future.
Blocsport.one, a smart sports contract and blockchain solutions platform, plans to launch sports focused NFTs on Moonriver.
Polygon
Polygon and Polygon studios were among the main sponsors of the latest NFT.NYC, on Nov. 1 to 4. The event featured exciting talks, workshops, and industry briefings from the leading brands in NFTs.
Entropyfi, a crowd wisdom machine built on lossless prediction DeFi markets, launched its public Mainnet on Polygon. Entropyfi offers crypto asset price prediction games and differentiates itself with the lossless function. Lossless means it removes the financial disincentive that penalizes users who make wrong predictions.
Tidal Finance, a DeFi insurance platform and marketplace, collaborates with Polygon to become the first protocol insurance provider for projects on the network. The collaboration will create an incentive program to attract more coverage providers and safeguard the insurance policy.
Solana
Solana announced the winners of its fourth global hackathon, IGNITION. The Grand Champion prize went to Katana, an asset management protocol building investment products across the risk spectrum.
Allbridge, a token bridge with on-chain consensus, will work with with Orca, a general-purpose AMM on Solana, to launch a seamless bridge between Avalanche's native token, AVAX, and Solana.
Tezos
The Recording Academy and OneOf, the green NFT marketplace built for music, will partner to create NFTs built on Tezos that will commemorate the 64th, 65th and 66th GRAMMY Awards.
Cosmos
From Nov. 11 to Dec. 8, 2021, Cosmos will host HackAtom VI, where developers compete to create the best applications on the Cosmos ecosystem, in a variety of categories, for a share of $1 million in prizes paid in ATOM. The event will be both virtual and in-person, including an opening ceremony in Lisbon, Portugal on Nov. 11. Click here to register.
The Graph
The Graph integrates with NEAR protocol, enabling developers to build subgraphs on the layer-1 blockchain. This makes NEAR the first non-EVM compatible network supported by Graph Node.
NEAR Protocol
NEARCON, an in-person event showcasing the NEAR Protocol ecosystem, took place in Lisbon, Portugal, Oct. 26–27, 2021. Click here to learn about the event's highlights.
Nifty Comedians, a comedy-based NFT marketplace, announced the launch of its new NFT platform on NEAR protocol. The platform allows comedians to showcase their work and garner support for their talent and its user base will be able to leverage NEAR's high throughput, scalability, and security.
Decentralised Information Asset (DIA) oracle infrastructure is now available in the NEAR Protocol ecosystem, allowing developers to build new decentralised applications (Dapps) on its network.
Keyko, a Web3 services organization, has partnered with NEAR protocol to create Chikai, a joint venture that will help solve key challenges in Web3. The partnership is intended to help scale the NEAR blockchain by allowing developers to leverage the platform's fast transaction speeds and low costs.
Flow
Faze, a startup that creates digital collectibles, raised $17 million in a seed round led by Tiger Global and announced its partnership with the International Cricket Council (ICC) to launch a cricket themed NFT marketplace on the Flow blockchain. Faze CEO, Anshum Bhambri, said in a press release he hopes to use the partnership "to build the metaverse for cricket."
GigLabs, a company that empowers brands like CNN through NFTs on the Flow blockchain, raised $4.5 Million in a seed round led by Dapper Labs and Panoramic Ventures.
Band Protocol
The Band Protocol development team submitted proposal BCIP-5, which would enable BAND holders to transfer their tokens to partner chains with IBC-capability and perform activity on those chains with their tokens. Voting ends Nov. 11, 2021.
IRIS Network
The IRIS Hub 1.2 mainnet upgrade proposal has been submitted. The upgrade would allow the network to leverage the new Terse IBC (TIBC) protocol features and become an NFT Hub that serves as the bridge between the world of public blockchains and that of consortium blockchains. Voting ends Nov. 13, 2021.
xDAI
Heterogeneous interoperability protocol, Poly Network, announced it now supports the transfer of assets from any supported chains to xDai.
---
About stakefish
stakefish is the leading validator for Proof of Stake blockchains. With support for 10+ networks, our mission is to secure and contribute to this exciting new ecosystem while enabling our users to stake with confidence. Because our nodes and our team are globally distributed, we are able to maintain 24-hour coverage.
Website: https://stake.fish
Telegram: https://t.me/stakefish
Twitter: https://twitter.com/stakefish
Instagram: https://www.instagram.com/stakedotfish
YouTube: https://www.youtube.com/c/stakefish