[PoS Round-Up] Ethereum 2.0 deposit contract released
PoS Round-Up is our focused biweekly report on the major news in and around the Proof of Stake ecosystem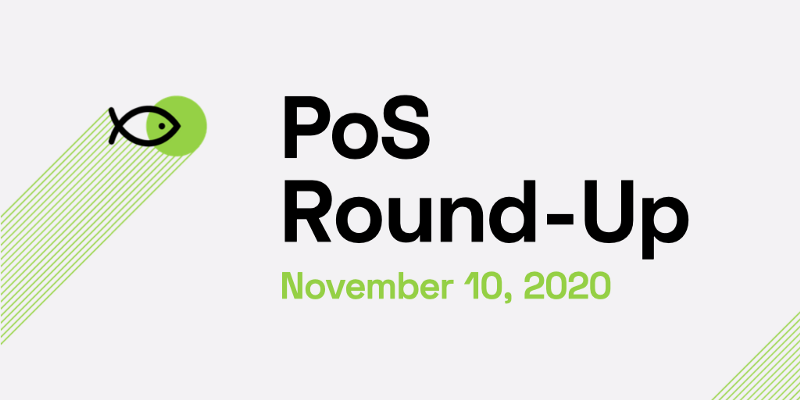 PoS Round-Up is our focused biweekly report on the major news in and around the Proof of Stake ecosystem
Ethereum
The Ethereum 2.0 deposit contract is live! The network could launch as soon as December 1.
Bits & Pieces
As Eth2 approaches, ethereum has been breaking records
Offchain Labs has ported Uniswap to their recently launched Arbitrum Rollup testnet
Ethereum smart contract security audit firm OpenZeppelin has released a free tool to automate common DeFi operations to improve security
Sign up for our Eth2 Round-Up newsletter to stay on top of the latest Ethereum 2.0 news and updates about our Eth2 staking service!
Stake with us! stake.fish/ethereum
Cosmos
The first real-world test of the Peggy Ethereum/Cosmos bridge took place late last month.
Stake with us! stake.fish/cosmos
Chainlink
ChainLink and Agoric have come together to organize Hack The Orb, a DeFi hackathon seeking submissions that combine Chainlink oracles with Agoric's JavaScript-based smart contract platform.
Harmony Network
The Harmony community has launched Swoop, a cross-chain decentralized exchange based on Uniswap.
NEAR Protocol
The winning submissions for the Hack the Rainbow ETH/NEAR bridge hackathon have been announced!
Looking to stake your NEAR with us? We just released a new video tutorial for staking with your mobile phone.
Stake with us! stake.fish/near
Polkadot
Polkadot Decoded, the first official Polkadot gathering since the network's launch, will take place on December 3, 2020.
Stake with us! stake.fish/polkadot
Solana
After reaching 800k monthly active users, music streaming platform Audius has chosen Solana to help scale their network.
Stake with us! stake.fish/solana
IRISnet
IRISnet has joined forces with KuChain to form Ti-Labs, a think tank aimed at helping to guide the direction and development of the Cosmos ecosystem.
Stake with us! stake.fish/irisnet
Mina Protocol
Mina Protocol has surfaced some ideas for developing a voting system that leverages zero-knowledge proofs to implement privacy and tamper-proofing and challenged developers to build it.
stakefish
Last week, we launched the very first edition of our Ethereum 2.0 newsletter, Eth2 Round-Up! Subscribe for news about the Ethereum 2.0 ecosystem and updates about our Eth2 staking service.
One of the biggest concerns we had while designing our Ethereum 2.0 staking service was making it easier for users to spin up multiple validators with us while paying a reasonable amount of gas. We've open sourced our solution to the community: the Batch Deposit Contract.
We're an official sponsor of BeaconScan's Guild Warz competition, "the quest to conquer Medalla."
We hope you had a happy Halloween!
---
Website: https://stake.fish
Telegram: https://t.me/stakefish
Twitter: https://twitter.com/stakefish
Instagram: https://www.instagram.com/stakedotfish
LinkedIn: https://www.linkedin.com/company/stakefish/