[PoS Round-Up] Cosmos Stargate upgrade is ready, voting underway
PoS Round-Up is our focused biweekly report on the major news in and around the Proof of Stake ecosystem.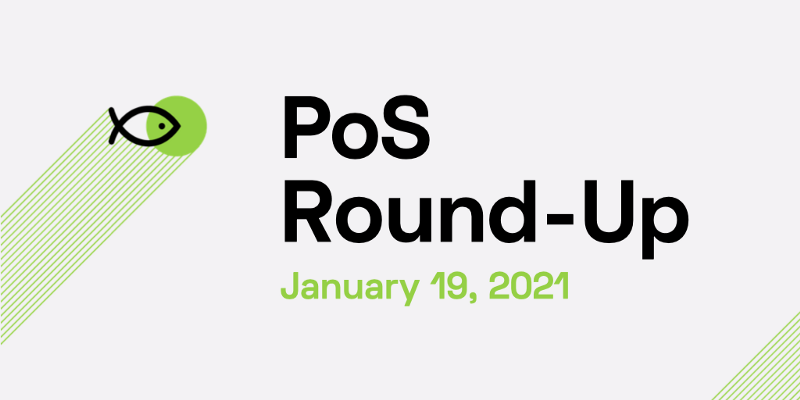 PoS Round-Up is our focused biweekly report on the major news in and around the Proof of Stake ecosystem.
Ethereum
With more than 60,000 active validators and a 99% participation rate, the ethereum 2.0 Beacon Chain "could hardly be running better," says Ben Edgington in the latest edition of What's New in Eth2.
Bits & Pieces
Tether has announced plans to launch on Hermez Network, an upcoming ZK-rollup-based scaling solution
Vitalik Buterin published a blog post arguing in favor of "social recovery wallets," which can be recovered using traditional means like SMS verification
Optimistic rollup implementation developer Ethereum Optimism has "soft launched" its solution on mainnet
Stake with us for 0.1 ETH per validator! stake.fish/ethereum
Cosmos
The last step in the roadmap laid out in the Cosmos whitepaper, the implementation of Stargate and IBC, is ready! Voting to execute the upgrade is currently underway, with virtually unanimous approval. The Regen team has already released cosmos-sdk v0.40 with support for IBC.
Celo
The Celo Foundation's Plumo ceremony, the trusted setup component for kicking off the SNARK that will be the basis of the project's "ultralight" client protocol, is underway!
Polkadot
Polkadot-js, Polkadot's answer to Ethereum's MetaMask, has been updated with several new features, including the ability to import and export Ethereum accounts.
Band Protocol
Band Protocol has announced plans to use CoinGecko data feeds for BandChain Phase 2.
stakefish
Our Protocol Researcher Daniel Hwang explained why transparency is crucial to the health of Ethereum 2.0 in his latest blog post.
We are officially a Lido node operator!
We published a video to make staking your ETH with us using a Ledger Nano X easier than ever.
---
About stakefish
stakefish is the leading validator for Proof of Stake blockchains. With support for 10+ networks, our mission is to secure and contribute to this exciting new ecosystem while enabling our users to stake with confidence. Because our nodes and our team are globally distributed, we are able to maintain 24-hour coverage.
Website: https://stake.fish
Telegram: https://t.me/stakefish
Twitter: https://twitter.com/stakefish
Instagram: https://www.instagram.com/stakedotfish
LinkedIn: https://www.linkedin.com/company/stakefish/