Buterin outlines ETH2 roadmap, NFTs on Moonbeam & Micheal Jordan on Solana
PoS Round-Up is our focused biweekly report on the major news in and around the Proof of Stake ecosystem.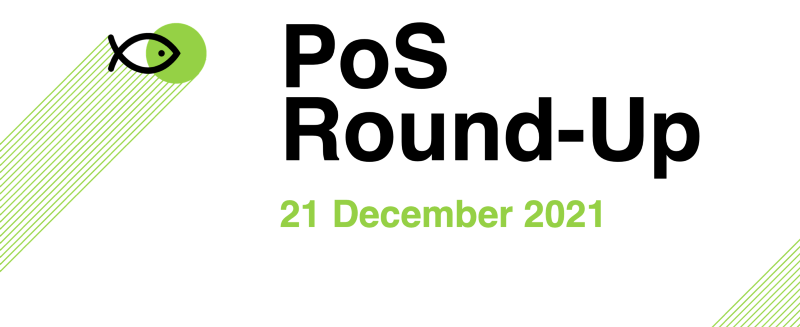 PoS Round-Up is our focused biweekly report on the major news in and around the Proof of Stake ecosystem.
---
Ethereum
Vitalik Buterin outlines a plausible roadmap for Ethereum 2.0, the upcoming proof of stake transition for the network. In a recent blog post titled "Endgame", the Ethereum co-founder discusses how to improve scalability while maintaining trustlessness and censorship resistance. The solutions proposed in the roadmap include a second tier of staking with low resource requirements and introducing fraud proofs, or ZK-Snarks, where users can directly, and cheaply, acquire block validity.
Ethereum software firm ConsenSys collaborates with MasterCard to launch ConsenSys Rollups, to provide enterprise-grade scaling solutions for developers, both on the Ethereum mainnet and for private use. The software firm said projects that use the solution can reach a throughput of up to 10,000 transactions per second (TPS) on a private chain.
Reddit plans to offer an Ethereum-based 'Community Points' token rewards program, including a dedicated website. Users and mods are able to sign up for the waitlist and request the Community Points feature to be added to their subreddit once the beta program goes live.
Nike acquired RTFKT, an NFT studio that creates digital collectibles on Ethereum, including virtual sneakers. The acquisition confirms the interest the athletic products manufacturer has in delving into the metaverse ecosystem.
Cardano
Input Output (IOHK), the blockchain company that supports the development of Cardano, announced that the testnet for the ERC20 converter, AGIX, is live and ready for community evaluation. IOHK collaborated with SingularityNET to build the bridge, which will allow the migration of ERC20 tokens from Ethereum to the Cardano network.
MELD, an open-source, non-custodial liquidity protocol for borrowing fiat currencies, will donate to Cardano's Global Impact Challenge, an invitation to its global community to make donations to Veritree using ADA. At the current rate, if the MELD stake pools keep more than 200 million ADA in their stake pools for the next epoch, that should equate to roughly 250,000 trees planted in total, including the matched trees from Veritree.
Polkadot
Cere Network launched the first decentralized blockchain-based cloud computing platform, and will be open to integration with the Polkadot and Polygon networks.
Parallel Finance, a decentralized money market protocol that offers lending, staking, and borrowing, wins Polkadot's fourth parachain auction.
Clover Finance, a blockchain infrastructure platform targeting cross-chain compatibility for decentralized finance (DeFi), wins Polkadot's fifth parachain auction. This ends the first round of auctions. The first 5 parachains will be integrated into Polkadot on Dec. 18, 2021. The second round of auctions is expected to begin on Dec. 24, 2021.
Moonbeam
Mochi.Market, a multi-chain decentralized NFT marketplace, launched its platform on Moonriver and will also collaborate with Moonbeam to build NFT applications. Mochi.Market sees great potential to reach new users in Polkadot's interoperable network and plans to develop new infrastructures that are exclusive to the Moonbeam network.
WePiggy, an open-source, non-custodial, crypto asset lending market protocol, integrated with Moonriver to bring multi-chain lending to Kusama and plans to join the growing ecosystem of DeFi projects building on Moonbeam.
Moonbeans, an NFT marketplace on Moonriver, integrates Composable Finance's Mural bridge, allowing for seamless transferral of NFTs across different chains and layers.
Polygon
Polygon acquired Zero Knowledge (ZK)-Rollups startup, Mir Protocol, for $400 million. The deal will pave the way for Polygon's new ZK-Rollup project. Polygon co-founder, Mihailo Bjelic, believes Mir Protocol is building groundbreaking ZK technology, allowing it to generate proofs faster and verify more transactions in a single proof. Mir will be rebranding to Polygon Zero.
Polygon launches the testnet for its ZK-Proof (ZKP) protocol, Nightfall, in collaboration with global professional services organization, EY. The protocol is designed to increase enterprise transaction privacy and reduce ERC-20 token transfer fees.
Polygon committed an additional $100,000 for projects looking to advance its own network. The funds are part of Polygon's $200,000 overall contribution to Gitcoin's Grants Round 12, which ran through Dec. 16, 2021.
Web3 development platform, Moralis, launched Polygon Mobile SDK to let developers leverage Polygon's Ethereum scaling solutions for their mobile applications.
Solana
Michael Jordan and his son, Jeffrey Jordan, are launching HEIR, a Web3 fan engagement platform for athletes built on the Solana blockchain. The platform will include an HEIR token minted on the Solana blockchain, as well as NFT assets and community-building features.
Block explorer and analytics firm Solscan, , which tracks data on the Solana blockchain, is set to raise $4 million in a seed round. The funds will be used to improve its block explorer and launch a new analytics platform, Solscan Analytics.
Cosmos
Interchain Foundation, the Swiss non-profit serving as a steward of the Cosmos ecosystem, announced the launch of Gravity Bridge, enabling the transfer of ERC-20 tokens between the Ethereum and Cosmos blockchains.
The Cosmos Hub Vega upgrade was successfully executed. The upgrade contains several new features, including authz and feegrant modules, packet-forward-middleware and IBC as a standalone module.
The Graph
Aurora, an Ethereum Virtual Machine (EVM) built on NEAR Protocol, partnered with The Graph to allow Ethereum developers to use superior data indexing for their dApps.
Tezos
Tezos is now live on Rarible.com. Tezos has become the third blockchain supported by the multi-chain NFT marketplace, after Ethereum and Flow.
Major video game publisher, Ubisoft, will implement in-game NFTs through its Quartz platform, which is built on the Tezos blockchain. Ubisoft Quartz will launch first in the PC version of Tom Clancy's Ghost Recon Breakpoint, the latest online game in the long-running tactical shooter series.
NEAR Protocol
NEAR Foundation has awarded a $50,000 grant to NFT marketplace, Picipo, to help expand its ecosystem to the NEAR blockchain. Integrating with NEAR will enable low gas fees and a seamless experience for Picipo users.
NEAR Foundation also awarded a $50,000 grant to Inite, a platform where users discover, share and monetize ideas, to help it develop its NFT-based gaming platform on the NEAR blockchain.
Developers on the NEAR network can now use KYVE as a storage and validation solution for their data streams. By leveraging Arweave, KYVE Network provides a secure, scalable, and immutable solution that can grow over time.
Band Protocol
Sienna Network, a cross-chain, privacy-first, decentralized finance protocol built on Secret Network, partnered with Band Protocol, for the organization's oracle data delivery. The partnership will launch with the network's lending platform, SiennaLend, and will also cover future developments.
Casper
Casper becomes a member of the Swiss Blockchain Federation, a public–private partnership, combining agents from the blockchain sector, the fields of politics and economics, the scientific community and the public sphere.
Gnosis Chain (formerly xDai)
xDAI rebrands to Gnosis Chain.
Persistence
pSTAKE Finance, a liquid staking protocol on Persistence, announced the public sale of its native token, pSTAKE, on CoinList. Registration started Dec. 16 and will end on Dec. 22.
Juno
Juno Network has enabled interoperable smart contracts with the successful launch of its Moneta upgrade on Dec. 15, 2021.
---
About stakefish
stakefish is the leading validator for Proof of Stake blockchains. With support for 10+ networks, our mission is to secure and contribute to this exciting new ecosystem while enabling our users to stake with confidence. Because our nodes and our team are globally distributed, we are able to maintain 24-hour coverage.
Website: https://stake.fish
Telegram: https://t.me/stakefish
Twitter: https://twitter.com/stakefish
Instagram: https://www.instagram.com/stakedotfish