Is this the Best Metaverse Experience? The stakefish world in The Sandbox
The stakefish world is a set of hubs and experiences that combines creativity, design, and gameplay to bring the most exciting gameplay in…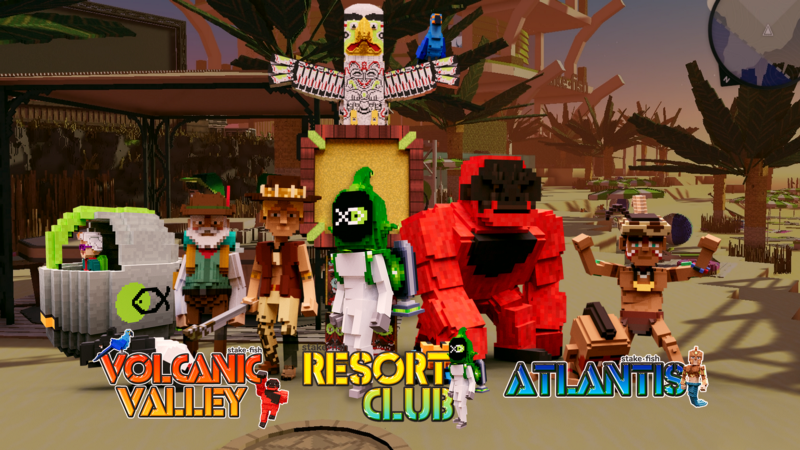 The stakefish world is a set of hubs and experiences that combines creativity, design, and gameplay to bring the most exciting gameplay in The Sandbox.
Learn more about these two experiences in one of the top metaverse projects.
Since last year, top brands and personalities such as Adidas, Samsung, and Snoop Dogg have stepped into the metaverse. They have acquired lands in The Sandbox game to build creative and unique ways to interact with their audience, following in the footsteps of crypto projects such as World of Women, Binance, and stakefish.
stakefish is the leading validator for Proof of Stake blockchains that, in partnership with Polygonal Mind, is developing one of the top metaverse projects in The Sandbox game.
We are going to explore stakefish's Volcanic Valley and Underwater experience, but before we jump into the details of these projects, let's define what the metaverse is and how it has evolved over the years
The Metaverse: From Imagination to Reality.
The term "metaverse" was first used in 1982 by Neil Stevenson in his novel Snow Crash. In this novel, the metaverse was a virtual world where humans could interact with each other thanks to virtual reality and diverse online environments.
This novel inspired many professionals and builders worldwide. Today, the definition of the word metaverse isn't very different from the world that Neil described.
The metaverse is understood as a digital universe made of different digital environments that allow humans, through the use of an avatar, to have real-time interactions similar to real-world interactions.
Four decades after Neil Stevenson coined the term, the metaverse has grown in popularity and investment due to the potential blockchain technology is able to unlock for the industry.
Blockchain technology allows indisputable proof of ownership in digital assets — such as virtual land, objects, experiences, music, and more. If it can have a digital presence it can be on the blockchain.
As a result of this technology, a new digital economy is emerging, allowing metaverse projects such as The Sandbox, Axie Infinity, and Decentraland to be brought to life under a new new playing mechanism called "play-to-earn."
Even though these projects still lack significant components such as virtual reality or interoperability (communication) between metaverses, the technology available today will make a true metaverse possible sooner than we think.
The Sandbox: A Vibrant and Artistic Metaverse!
The Sandbox is an ethereum-based metaverse. It differentiates itself from other metaverses with its user-generated content (UGC) as the main game focus.
This differentiation results in one of the most vibrant and artistic metaverses, bringing partnerships with top lifestyle, fashion, entertainment brands, and personalities such as Adidas, Bored Ape Yacht Club, and Snoop Dogg. The Sandbox boasts an investment of $95MM total funding over four rounds and more than 21,500 unique creators who build custom games and thousands of unique experiences.
Now that you know a bit more about the metaverse and The Sandbox let's jump into the experiences of the stakefish world.
Introducing the stakefish world!
The stakefish world consists of seven chapters, each of which are unique and distinct from one another.
Each chapter takes place in a special experience with its own design, land structure, environment, characters, and gameplay.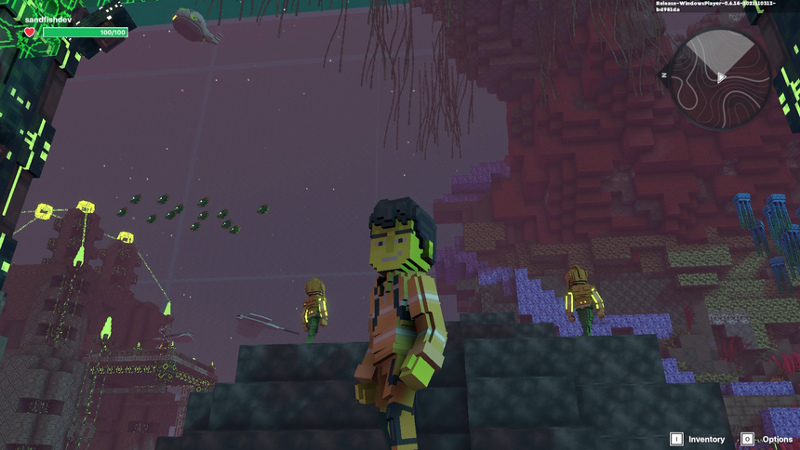 The seven chapters are connected through narrative gameplay that are designed to keep the player engaged throughout the game.
The player travels from past to future, seeing humanity's evolution as a result of blockchain technology while they face different challenges and adversaries.
The stakefish world is the only creator that has designed seven chapters connected through one story: decentralization.
stakefish has launched three chapters: Beach Hub, Atlantis Hub, and Volcanic Valley and are preparing to launch their first experience.
Let's dive into more details!
Volcanic Valley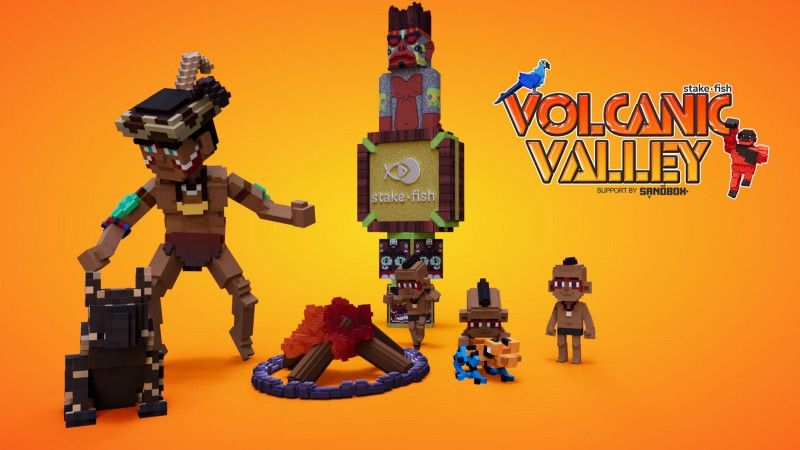 The Volcanic Valley is the third hub of stakefish. This chapter takes place in a wild jungle with enjoyable gameplay.
The Volcanic Valley has an authentic design, and it's filled with different metaphors.
In this chapter, players are challenged to solve five quests that are designed to be fun and informative on blockchain technology. After completing the quests, the player unlocks the Victory Room and receives an exclusive stakefish NFT wearable as their reward.
As stated previously, The Sandbox metaverse uses "play-to-earn" incentivization to allow players to monetize their time and gameplay by earning tokens or NFTs. These NFTs can be sold in The Sandbox game marketplace or on a secondary market, such as OpenSea.
Watch the Volcanic Valley trailer!


---
Underwater Experience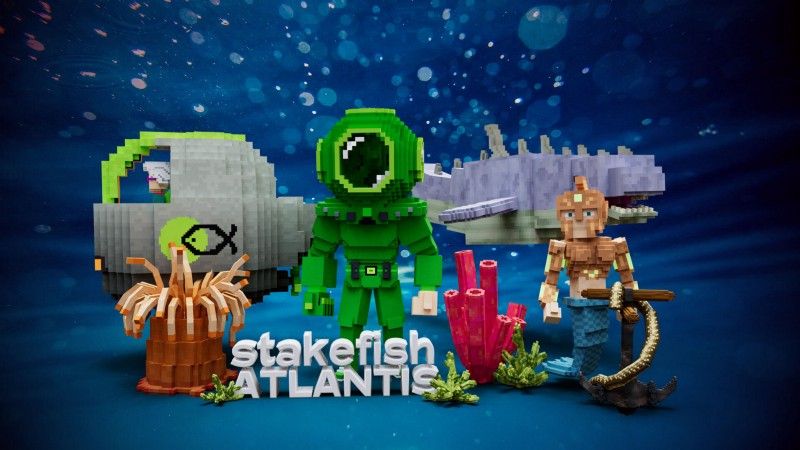 The Underwater Experience will be the first of three experiences that stakefish will launch. The first feature to highlight is the size of the map, which is twice the size of the Volcanic Valley hub, and brings a vast experience of gameplay to to the user.
The gameplay has no limitations, using the most complex and fun techniques available in its implementation.
The fourth chapter of the stakefish metaverse is set in a distant past, with the player invited to explore an ancient civilization in a three-layer underwater structure.
The Underwater Experience has five main quests with a couple of optional quests that will reward the player with stakefish NFT wearables.
---
How to play the Volcanic Valley and Underwater Experience
Follow these steps to play:
Create a sandbox account here
Download the latest Game Maker version
Click "featured experiences" on the left-side menu
Our motivation
stakefish is one of the leading Proof of Stake validators in the crypto world.
In 2021, our team purchased land in The Sandbox to engage with their audience in Web3. To create the stakefish world, we partnered with Polygonal Mind, a creative development studio based in Spain specializing in building metaverse environments.
"Our main motivation to do this is to interact with our community in the metaverse, and most importantly, educate users about the importance of decentralization.
Decentralized structures distribute control among individuals, so there's no central authority or intermediary with total control. This is essential for finance and for every other aspect in our digital lives". — Dasom Song, Chief Marketing Officer of stakefish.
Decentralization has become popular worldwide in main part to the attention received from advancements in finance and cryptocurrencies. As blockchain technology becomes the method on which they function, It's vital that the metaverse is built with decentralization in mind..
A couple of weeks ago, The Sandbox COO, Sebastien Borget, stated on a Twitter thread that avatars as our new digital identity in the Metaverse should be unique, built, and led by the community, not by a centralized authority.
The metaverse is evolving each day and it will only continue to be ingrained in our daily lives. Dive in now, experience what is being built, and get some amazing NFT wearables for your avatar in the Volcanic Valley and the Underwater experiences!
---
About stakefish
stakefish is the leading validator for Proof of Stake blockchains. With support for 20+ networks, our mission is to secure and contribute to this exciting new ecosystem while enabling our users to stake with confidence. Because our nodes and our team are globally distributed, we are able to maintain 24-hour coverage.
Website: https://stake.fish
Telegram: https://t.me/stakefish
Twitter: https://twitter.com/stakefish
Instagram: https://www.instagram.com/stakedotfish
YouTube: https://www.youtube.com/c/stakefish
LinkedIn: https://www.linkedin.com/company/stakefish/