Stake & Mint - Early Mint Discounts
Early mint discounts for early adopters and volume staking for Stake & Mint, Ethereum Validator NFTs provided by stakefish.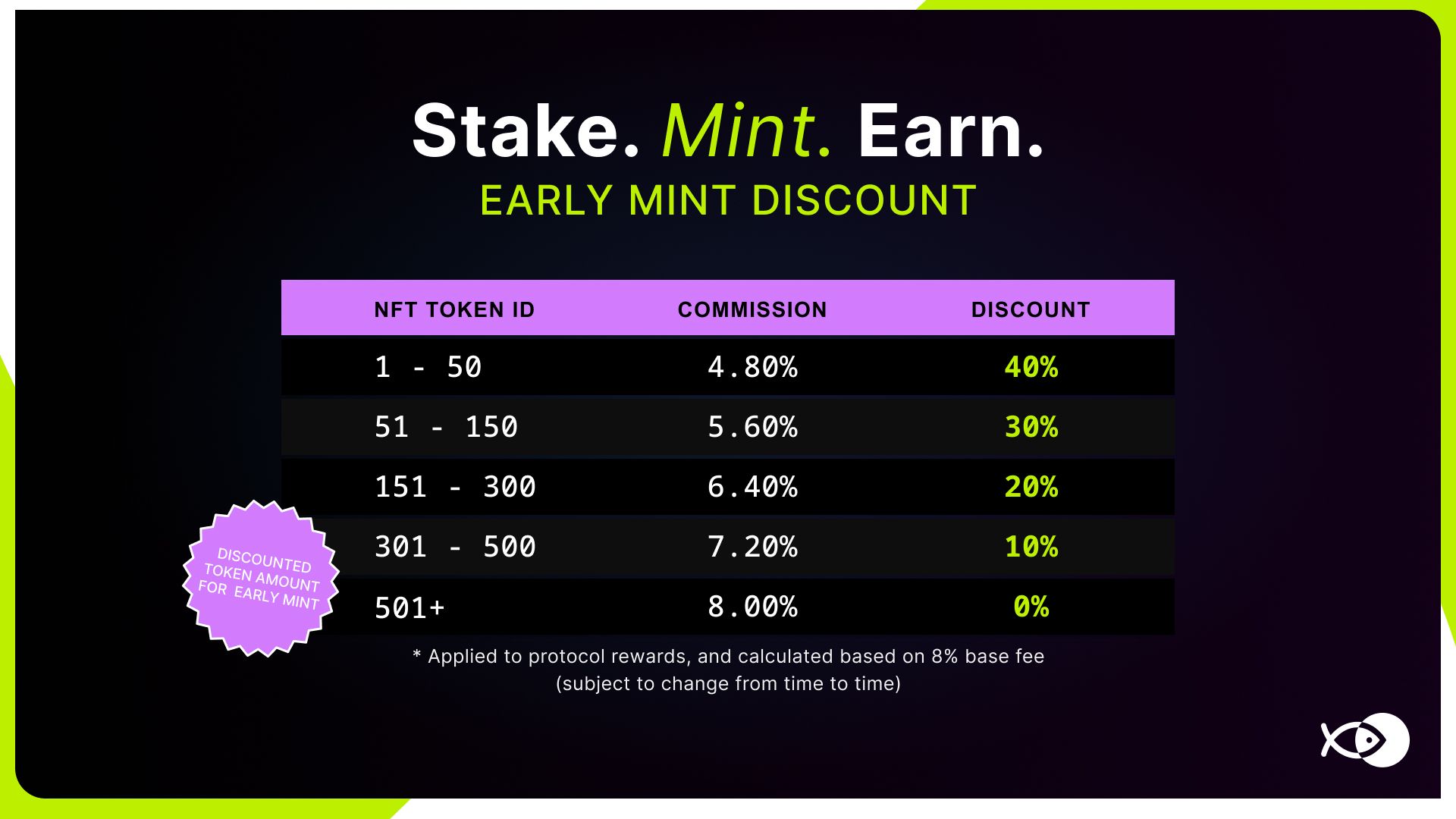 We are excited to announce an early mint discount for Stake & Mint, Ethereum Validator NFTs provided by stakefish.
Stake & Mint are stakefish Validator NFTs that map 1:1 with an Ethereum validator. The NFT reflects the four states stakefish supports for staking: Depositing, Active, Withdrawn, and Exiting.
This mapping process will make it simple for stakers to convert 32 ETH to a single NFT representing their ownership of the Ethereum validator.
The NFT will improve upon the current Ethereum staking process by making it easy to stake with one simple step, allowing users to transfer their stake, and use the NFT with additional services, including, but not limited to, NFT marketplaces. This will allow a liquidity option for stakers should they wish to exit their position without waiting for withdrawal permission on Ethereum or, after withdrawals are allowed, un-bonding periods.

Early Mint Discounts
Early adopters of the stakefish Ethereum Validator NFTs can receive discounts of up to 40% on commission fees when they stake and mint an Ethereum Validator NFT.

In addition, discounts of up to 20% are offered for bulk Ethereum staking. The more NFTs minted through validators result in greater discounts for stakers.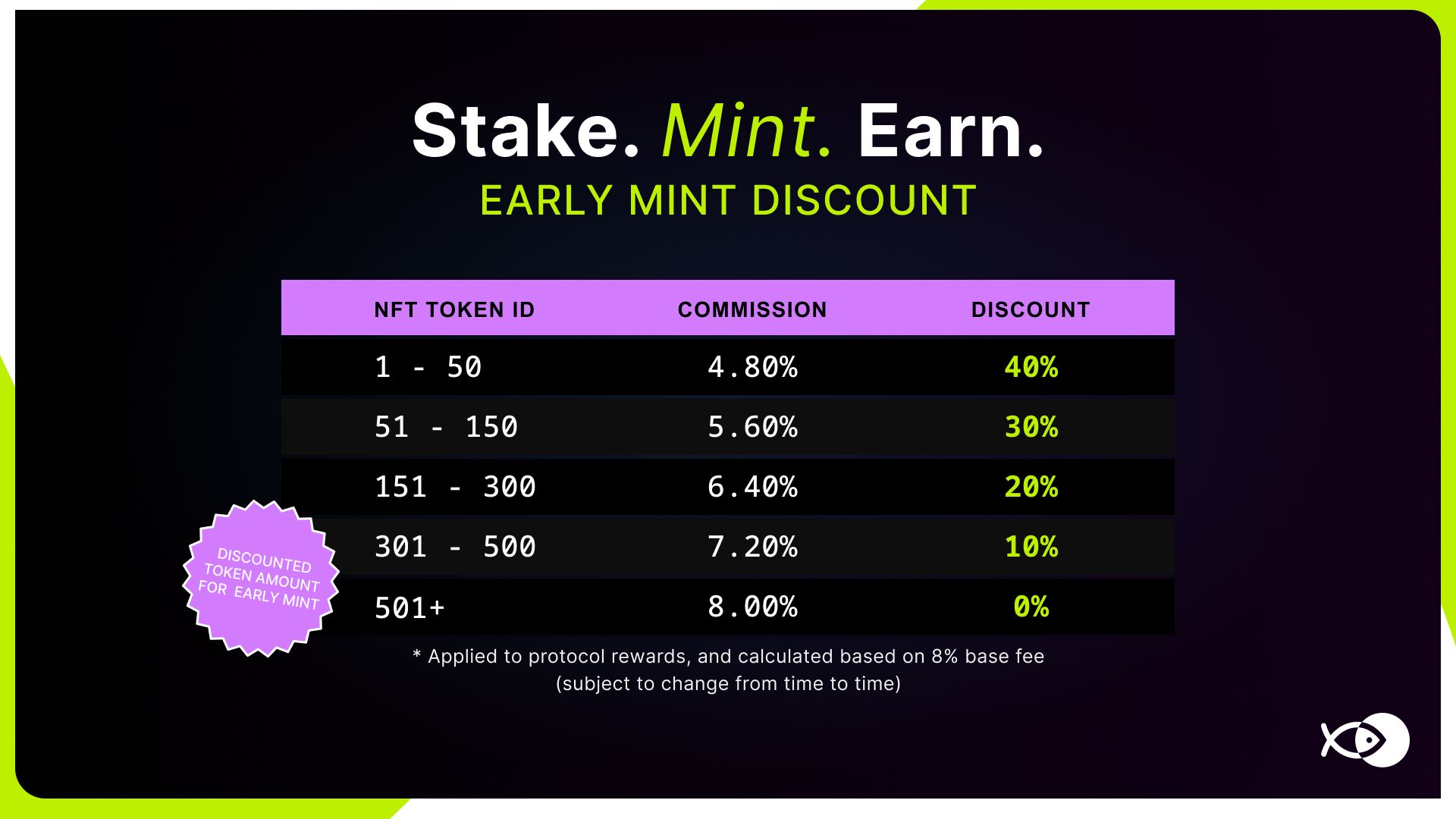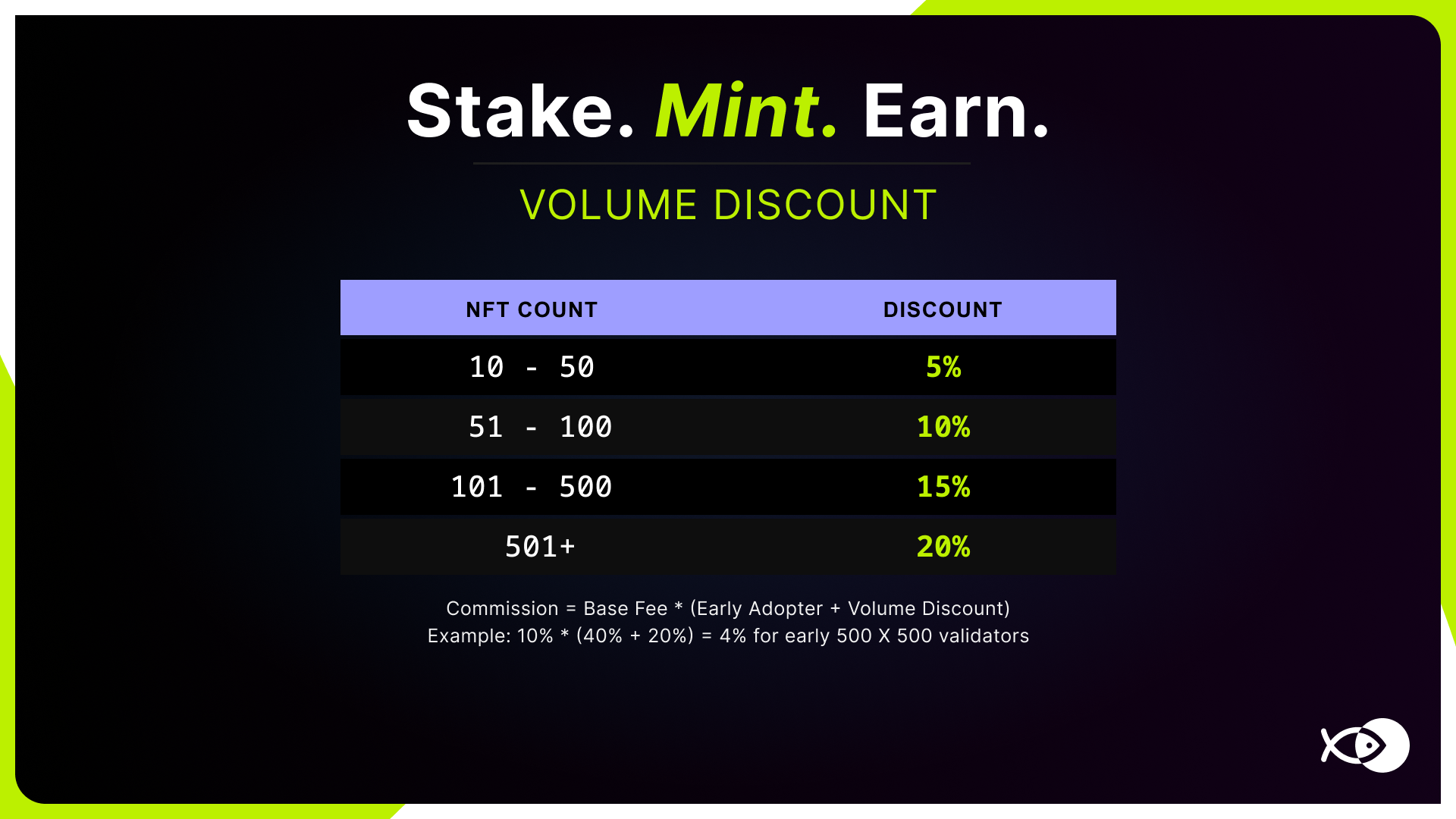 By minting early, users can get at least 40% discount permanently locked into the NFT, which is effectively at 4.80% commission and up to an additional 20% discount with volume staking, reducing the fees to less than 4%.
For market comparison, we included our competitive rates in the following section.

Market Rate

stakefish offers competitive commission rates compared to the current market rate offered by other custodial and non-custodial staking platforms such as Coinbase, Kraken, Lido, Attestant, and Rocketpool.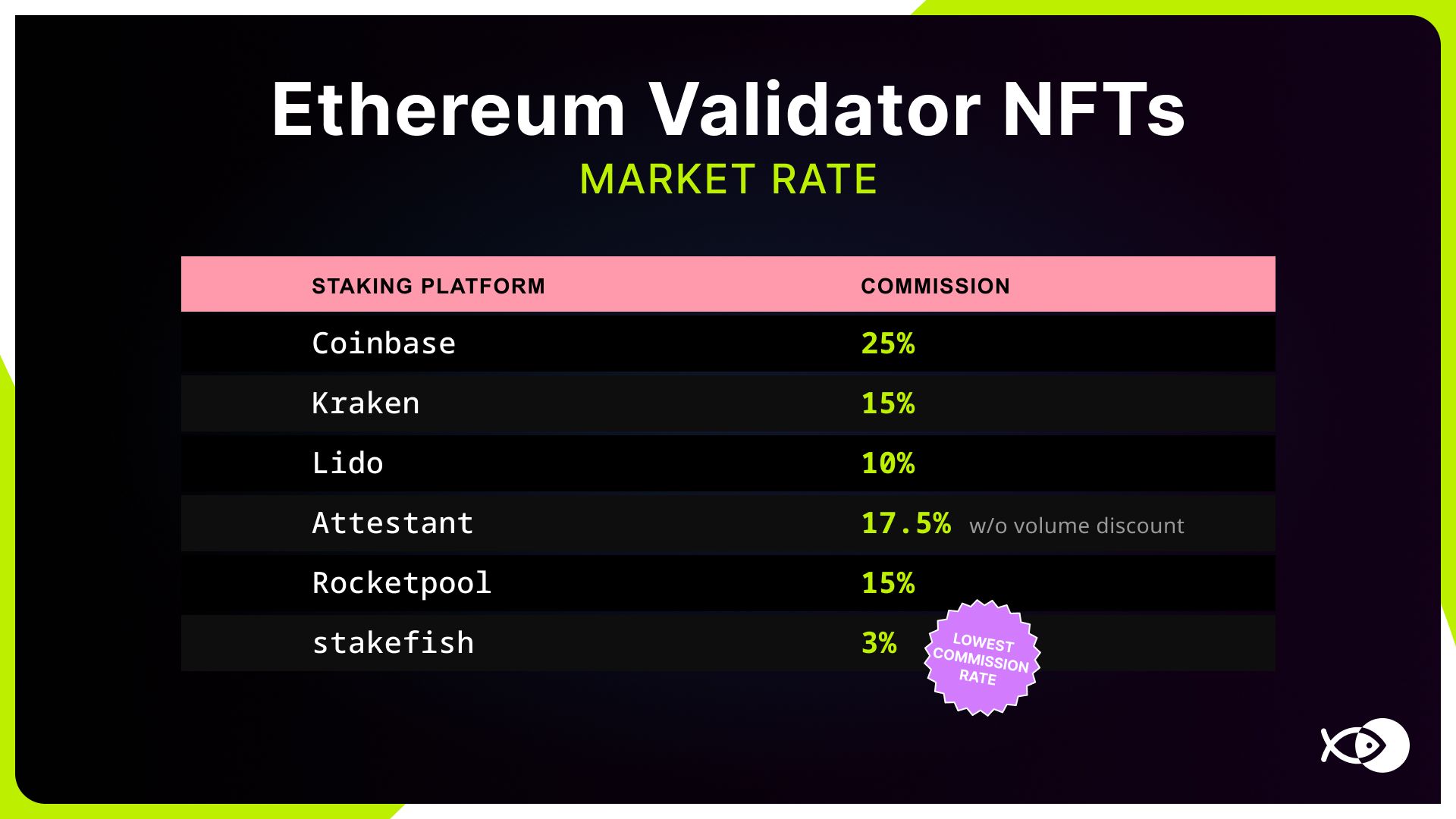 As one of the largest and most trusted validators for Proof of Stake blockchains, stakefish has helped to stake over $1 billion worth of assets for both institutions and retail investors. stakefish has provided validator infrastructure on Ethereum since the launch of The Beacon Chain in December 2020.
Now stakefish brings that same focus on secure, permissionless, community-focused, non-custodial staking to Stake & Mint.
Stake. Mint. Earn.
What are you waiting for?
Join the waitlist: stake.fish/nft
---
For updates and special announcements, follow our Twitter (@stakefish 🐠) and join our community on Telegram.
---
About stakefish
stakefish is the leading validator for Proof of Stake blockchains. With support for 20+ networks, our mission is to secure and contribute to this exciting new ecosystem while enabling our users to stake confidently.
Visit our website 🐠 | Telegram | Twitter  | Instagram | YouTube | LinkedIn | Reddit