Consensus 2022 Recap
In the first in-person Consensus since 2019, 17,000 builders and crypto-enthusiasts swarmed Austin for the four-day event after two years…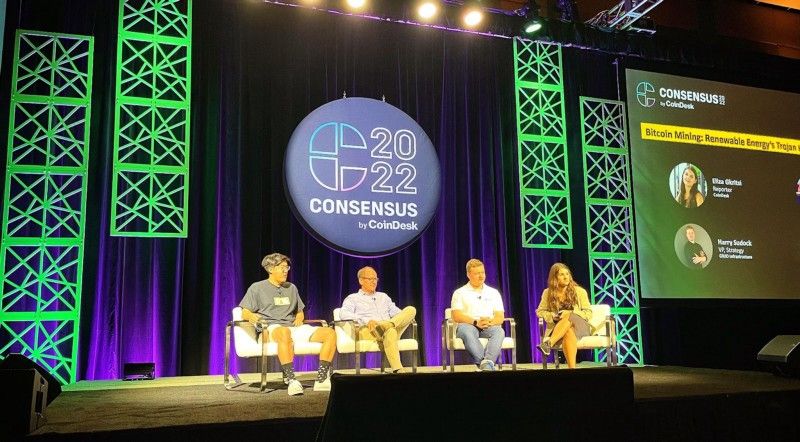 The Recap
Market sentiment could not cool off the heat of excitement at Consensus 2022: The Festival for the Decentralized World by Coindesk in 40-degree weather in Austin, Texas, June 9–12. In the first in-person Consensus since 2019, 17,000 builders and crypto-enthusiasts swarmed Austin for the four-day event after two years of online gatherings.
Despite the event occurring on the back-end of large sell-offs in the crypto market with the infamous collapse of TerraLab's UST stablecoin and a looming crypto winter, attendees remained optimistic about the future of the industry and crypto as a whole. New projects, Web3 development, Metaverse, the crypto regulatory landscape, and the future of digital assets were the points of discussion, rather than current market prices.
The general optimism was attributed to a successful four-day festival as attendees ate, drank, and were merry. They engaged in networking events, hackathons, and attended talks from some of the biggest names in crypto: FTX CEO Sam Bankman-Fried, Angel Investor and Entrepreneur Balaji Srinivasan, and Binance Founder and CEO Changpeng Zhao.
The key themes were utility and innovation. This was mostly reflected in the amazing speaking panels throughout the event; from U.S. Senators Lummis and Gillibrand joining forces to create a comprehensive framework for the regulation of digital assets to Cardano founder, Charles Hoskinson, emphasizing that blockchain has far more wide-reaching potential than digital money. Attendees also relished hearing from the famous whistleblower and president of the Freedom of the Press Foundation, Edward Snowden, on how he sees more value in cryptocurrencies in their use than as an investment.
There was no shortage of interactive experiences during the event. The Metaverse Zone featured demos from some of the hottest metaverse experiences in the space that allowed anyone to experience through Virtual Reality (VR) headsets. Sports fans were able to access a "SportCourt", a space with athletes and brands that focused on crypto holding panels, conversations, games, contests and tournaments. The DAO House allowed attendees to explore the world of Decentralized Autonomous Organizations through featured sessions.
When not at the Austin Convention Center participating in the hosted events, attendees took full advantage of what Austin offers — on scooters. They attended parties and networking events on Austin's famous Rainy and 6th Street, ate Texas BBQ, and enjoyed concerts and live music. When they needed relief from the heat, they found shelter at Barton Springs — a local favorite spring-fed swimming pool known for its icy waters.
In addition, CoinDesks social token, DESK, made its debut, allowing users to collect the token by engaging with show floor booths and scanning a QR code. Users were able to redeem the token for food and merchandise.
stakefish, Blockdaemon, Figment, Kiln, Staked.us, and Cosmostation were among validators represented at the event. Most notable were the stakefish "social vending machines" around the show floor, prompting users to tweet in exchange for from the vending machine.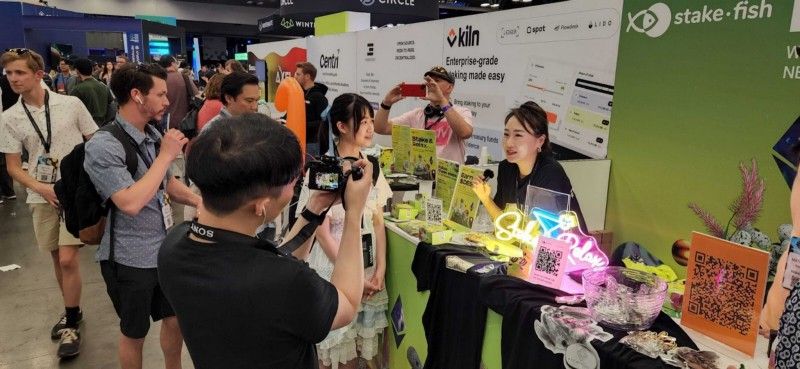 2022 feels different
The common consensus (no pun intended) is that the coming months and years of crypto winter will be the time to build, just as in the last crypto winter of 2018. The looming existential questions then were: What was the use case other than being a store of value? Will we ever see ordinary people pay attention to crypto again? Will crypto be considered anything other than speculative coins? During this period, advances happened in Defi, NFTs, layer 2 scaling systems like Bitcoin's Lightning Network, and ZK-rollups with Ethereum.
This time is different. Crypto is here to stay. There is constant iteration of so many promising products and use cases. The magic of Defi, NFTs, DAOs, P2E, and crypto games are showcased to the world and were on full display at Consensus 2022. It's not easy, but it's easier to say that we will be coming back from the current bear market.
There is only one objective: survival.
For builders, this is when heroes are born. Projects that focus on building and surviving will see another day in the light.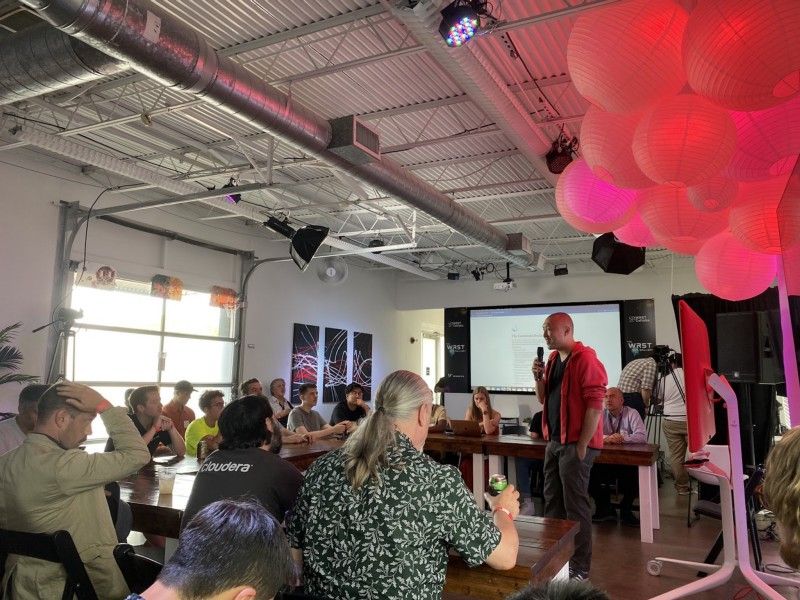 Validator Commons
Continuing to focus on building for the future, the Validator Commons launched the world's first-ever chain-agnostic cryptopolitical party. Spearheaded by Metagov and stakefish, along with a subset of tokenholders, they met, sharing aligned values and goals for the future of blockchains.
Validator Commons' launched at Consensus 2022 in an event space hosted by WRSTA Collabs. They invited validator protocol specialists, foundation team members, and tokenholders to the venue to declare their alliance to advance values described in their Commons Declaration.
Validator Commons, while maintaining independent operations, wishes to collaborate with protocol foundations to advance the goals of decentralization and the security and prosperity of proof-of-stake blockchains.
There was strong support for tokenholders and validators collaborating to move chains forward in the best way they see fit. The Validator Commons' first act as a political entity will be on the Juno blockchain. They will seek to pass a signaling proposal declaring their existence and interest in collaboration with existing stakeholders to move that blockchain forward.
Overall, Consensus was a huge success. It brought together some of the brightest minds in the industry to continue to build despite the challenging market sentiment. It demonstrated the continued potential for innovation in the space and how strong the crypto community is. We look forward to coming together again next year.
Consensus Day 1 Summary Video:
Consensus Day 2 Summary Video:
---
About stakefish
stakefish is the leading validator for Proof of Stake blockchains. With support for 20+ networks, our mission is to secure and contribute to this exciting new ecosystem while enabling our users to stake with confidence. Because our nodes and our team are globally distributed, we are able to maintain 24-hour coverage.
Website: https://stake.fish
Telegram: https://t.me/stakefish
Twitter: https://twitter.com/stakefish
Instagram: https://www.instagram.com/stakedotfish
YouTube: https://www.youtube.com/c/stakefish
LinkedIn: https://www.linkedin.com/company/stakefish/